Fashola: 20,000 drivers' licences ready for collection in Lagos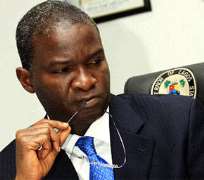 Lagos State Governor, Mr. Babatunde Fashola, has directed all the relevant agencies in the state to inform the public that about 20,000 drivers' licences were ready for collection across the state.
The governor gave the directive when he visited the Drivers' Licence Facility at Ojodu on Friday.
The governor had during the visit, completed his driver's licence process, during which he was subjected to eye and written tests with the Vehicle Inspection Service (VIS) and photo data capture with the Federal Road Safety Commission (FRSC).
The governor, who was given his  temporary driver's licence at the end of the exercise, told journalists that the state government would help to increase public awareness about unclaimed driver's licences.
He said, 'The only thing now is that I was told that there is a batch of drivers' licenses which has not been collect. "So, we will, at the state level and the FRSC, have to put on our thinking caps about how to create public awareness on this. 'I am told that about 20,000 people out there are yet to collect their drivers' licences. They (Drivers Licence Facility agencies) are concerned about cost and may be they are thinking about how to publish the names on the internet or something. Perhaps it is a good time, those who have come here for biometrics may do random check and collect theirs.' the governor who described  his experience during the exercise as wonderful, noted however that it was presumptuous to judge with his own experience since it could also be possible that he received a fast tracked treatment because of position as a governor.
'What is important is that I asked citizens, who are here and the totality of their experiences from the VIS and the FRSC indicated that things are certainly getting better. So, it only suggests to me that all of the impressions that we had initially were teething problems,' he said. the governor blamed the initial congestion at the place on the fact that so many people were striving to get into the restricted place at the same time.
'After all of the initial problems, things are turning out for the better. People now have appointments and from all that is being said, they keep their appointments and they get good services, so far so good,'  he said.