$5billion missing from Excess Crude Account – GOV Amaechi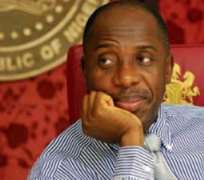 Governor of Rivers State, Mr. Rotimi Amaechi, alleged Saturday that the sum of $5b was withdrawn from the Excess Crude Account without governors knowing what the money was used for.
According to the governor, whose faction of the Nigeria Governors' Forum held a retreat in Sokoto at the weekend, there was  $9b in the account in January this year which has been drawn down to $5 billion  without the governors knowing why the money was withdrawn.
"The Excess Crude Account in January was N9billion. That account belongs to Federal, States and Local Governments. Today it is N4billion. We don't know who took the $5billion," he said.
Amaechi also accused  the Federal Government of using  anti-corruption agencies to harass governors who hold different opinions from that of President Goodluck Jonathan.
He wondered why these anti-corruption agencies had refused to visit other government establishments like the Federal Ministries of work, finance, Niger Delta and even the NNPC. Instead of this, he said the EFCC was always going to such states like Kano and Jigawa, where governors of the affected states hold different political views from that of President Jonathan.
he governor said,, "Today, the EFCC is either in Jigawa or in Kano States because they (the governors) disagree with the President. What about NNPC? What about Ministry of Niger Delta and the Ministry of Works?
"The whole governors put together receive 26 per cent from the revenue of the Federation. The Federal Government gets 52 per cent.  And with that 52 per cent, nobody goes after the Federal Government to say how did you spend it. And then you go after those who get 26 per cent'
The Amaechi-led NGF in a communiqué at the end of  the retreat charged Nigerians to be more politically active by participating in politics demanding better accountability and responsibility from their leaders.
It also raised questions about the transparency of the Nigeria National Petroleum Corporation (NNPC).
No governor from the Pro-Jang NGF was at the retreat which attended by only eight governors out  of the 19 governors in the camp.
Apart from the host governor, Aliyu Wammako, others governors in attendance were those of Ekiti, Osun, Adamawa, Nasarawa, Rivers, Lagos and Niger. .
Governors of Kano, Niger, Jigawa, Kwara and Oyo states, however sent their deputies. House of Representatives Speaker Aminu Waziri Tambuwal, former EFCC chairman, Nuhu Ribadu, Prof. Wole Soyinka and Bishop Mathew Hassan Kukah among others also attended the retreat.