Why Calabar Is Eagles' 'Shrine'—Kalu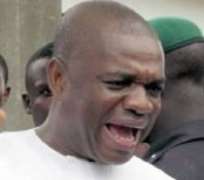 Former Abia state governor Dr. Orji Uzor Kalu thinks Ethiopians are coming to Calabar as tourists not serious business,maintaining that the town is Nigeria's Holy Ground.
Kalu said,"maybe they want to watch the Calabar Carnival,or enjoy the Obudu Mountain Race.If it is a World Cup ticket,the Ethiopians should wake up from their dream.Calabar is a no-go area,the cradle of Nigerian soccer.
According to the ex-governor,"Calabar hosted the first football competition in the nation ,the Beverly Cup in 1906.The first secretary of our Football Association,Efiom Okon,who till date remains the only man to have served NFA as Chairman and Secretary came from the area."
That is not all."The first player to captain Nigeria overseas,Etim Henshaw,the longest serving NFA scribe Oyo Orok Oyo,who was also the first Nigerian member of the FIFA Executive Commitee and Paul Bassey,first Nigerian Sportsjournalist in the CAF Media Committee have a lot to do with the town,"Kalu added.
"The only time a Service Chief headed the NFA was in 1962. He was Louis Orok Edet.Nigeria's first President Dr. Nnamdi Azikiwe who played for Lagos Diamond in 1923,began his soccer career at the Hope Wadell Training Institute Calabar,"Kalu disclosed.
Today,it is more than a mere irony that Eagles captain,Vincent Enyeama is from the Calabar axis of the country.
"It is not just about history.Champions are brewed in Calabar.Think of the Golden Eaglets.Remember Nigeria's first World Champion,Hogan 'Kid' Bassey.If Governor Liyel Imoke was not diplomatic,he would have asked the Ethiopians to stay back in Addis Ababa,"Kalu said.
Signed
Emeka Obasi
Special Adviser, Media to
Dr. Orji Kalu.