HOW I FELL IN LOVE WITH THE WRONG GUY — BIG AND BEAUTIFUL QUEEN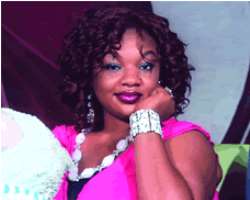 How I fell in love with the wrong guy — Big and Beautiful Queen
By DENNIS UGBUDIAN
Saturday , March 06 , 2010
Emmanuella
Miss Emmanuella Agharese is a final year Theatre Arts Student of University of Benin, Benin City. She contested for the Miss Big and Beautiful pageant, 2009 and came out as the first runner-up.
She hails from Oredo Local Government Area of Edo State. Emmanuella, whose father is an Anglican priest is from a family of seven, did not hide her penchant for tall, dark and humble guys. She told Saturday Sun of her other love, music which she said calms her frayed nerves and puts her in a good frame of mind. That is why dancing is her hobby.
Recently, she related her experiences as a beauty queen, talked about her family and love life.
Excerpts
You contested for Miss Big and Beautiful Nigeria, 2009. What is it about?
It is a beauty pageant for plum sized women as from size16 upward. It is for big Nigerian girls for the purpose of appreciating African women. It is based on their opinion that a typical African woman is big, luscious and beautiful. So, the beauty pageant was essentially to celebrate plum size women in Nigeria.
How did you know about the project?
They came to advertise it on campus where I was presented with a flyer containing everything about the project. I saw that the star prize was a jeep, that is for the Queen, and the first runner-up will get a car. Then my friend Betty Kolade started encouraging me and said 'oh girl, you are big and beautiful. Why don't you give it a trial? You don't know what will happen.' That was how I joined the race. I went for the screening at the Royal Marble in GRA, Benin City, and came out second. That qualified me for the final competition where I eventually came out as the first runner-up.
Where you camped?
Yes. We were in camp for a week at Riverview Resort, Badagry Expressway in Lagos.
What was your experience like?
It was interesting. At first, I was really nervous because of the calibre of big and beautiful girls in the competition. Again, it was my first experience in a pageant and first time being around people that were big like me. Though it was full of fun but it was also tedious because we had to wake up early for sports, cat-walks and choreography reharsals, games, outings and others. We had quests like Elvina Ibru who came to talk to us. She is also big and beautiful. So, it was really interesting especially being the first time in such activity. I had never thought I would ever go into pageantry. It was really a great experience.
When goning into it, what gave you the confidence you could do it and win?
Truthfully, I wasn;t really certain I could win. I was only just hopeful because I knew that there would be other big, beautiful and courageous girls for the competition. Many of them were really bold in the sense that some of them had been into pageantry and other such activities before. In my case, it was the first time which was not really easy. What eventually gave me an edge over them was my Theatre Arts experience. It actually helped me in the area of the boldness I had to face the crowd and do my thing on stage. Having that at the back of my mind, my belief and hope grew that I was going to come out top.
Unfortunately, you didn't win…
Yes, I wasn't the Queen. But I was the runner- up, which means I am a winner too.
When you were announced as the first runner-up, how did you feel?
To be honest, I was a little bit disappointed because it was just me and the Queen on stage before they announced who the winner was. I was really very hopeful. Within myself, I was saying 'am I really going to make it?' Eventually, when they called my name as the first runner up, I was somehow disappointed. But then, I was also happy because I got a prize too. I got a car though I really wanted the jeep.But since I still got something, I was very thankful to God..
Apart from the car, what else did you get?
I am supposed to get five hundred thousand naira.
Then, what happened?
They haven't done the presentation yet. They have not given us the car and the money yet.
Still expecting?
Yes. I am still expecting. They said we should look on to the 12th of February.
Are you sure they will redeem.the pledge?
I am sure. The reason is that the winners of the 2008 edition came with their car to see us in camp. That is, the Queen and the runner up. The truth is that the CEO talked to us that they were undergoing a process of change and that they were dropping some stars because of something that happened. He just begged us to be patient and all of that.
What edition is this?
It is the third edition. So, they are still very young.
Were you with the thought that one day you will become a Queen?
Never. It was just coincidental. I have never thought that there could be a pageant for big people. Though I heard of the 2008 edition but I said 'there are other bigger and beautiful girls, and who am I? And why would I even contest? When I was going into this one, I was praying to God that if I could make it to top three, I will be happy. Luckily, I came out second.
Many people believed that beauty pageants are flirts. What do you have to say?
I don't think so. I think it is the mindset. It is not about flirting. It is just going there to do what you can. You don't have to be a flirt because of pageantry. It is unfair and absolutely unfair to regard them as such. It is not right at all. Beauty pageant is all about entertainment and making people happy. It is a serious business for intelligent people and professionals.
Was there a time you feared that some of the girls may compromise to win the crown?
Yes. In fact, I was afraid all through that some of the girls were actually going to compromise. As I heard, some of the girls were actually trying to go through the back door, drop some money and everything. With that I became scared because I honestly and sincerely went with what I had. That is, the intelligence and beauty God has given me. Nothing else. So, I was really scared.
It means you were really suspicious.
Yes. Such things do happen in some beauty contests.
Did it actually influence the overall judgment?
No. I don't think so. I really don't think so because the people I feared were not even in top five. I think the organizers and the judges did a good job.
Sexual harassment has become a household name in showbiz in Nigeria. Tell us your experience.
The truth is that I have heard of it but I have never experienced it. So, it is difficult to relate anything in that regard.
But how do you feel each time you hear that some girls have fallen victim of it?
It really hurts. I always wished I could get hold of the offenders. I don't think anybody who has harrassed a girl sexually should be allowed to live. I don't think so. It is annoying and I hate to hear it.
What is that special thing about you that is always attractive to men?
Hun! What a funny question. Maybe, it is my size or complexion. Yes. I think so because men that haven't heard me talk are probably attracted to me because of my fair complexion. Some are fascinated by my size while others are for my beauty. When we get talking, I think they also like the way I talk. they usually say 'I am fun to be with.'
What appeals most to you about a guy?
Honestly, I like tall, dark and humble guys. Character wise, I like guys that are decent. I don't like guys that talk too much and anyhow. I am not really particular about fine guys, not at all. In fact, I think it is just about the inside. A guy can be very handsome but could be dubious. I like straightforward and God fearing people. I pray that my husband is going to be everything I like.
Tell us that part of your body your guy usually crave for.
For a start, do I have a guy? Right now, my relationship is very dicey. So, I will not say I have a boyfriend right now or so. Well, if I had a boyfriend, maybe he would like my whole body. I am not sure about any particular part. I really don't know.
Why are you not having a boyfriend?
Bros, it is an emotional issue. You know how guys are now. They are very dubious. I think I fell into the hands of a wrong guy. So, I am trying to get out of it right now.
So, when do we now hope to see you say 'I do?'
I don't know yet because I don't have Mr. Right, right now. But I pray he comes along pretty soon. When he does, I will let you guys know.
Now that your status has been elevated to the next level, how do you intend to cope with your male admirers?
That is an interesting question because I have come across several of them already. From my experience with men, some of them always want something in particular. But I know God is there to give me the wisdom to cope with them. I will welcome everybody but to a particular extent. There is a line they cannot cross. But when you talk about being friendly, I don't mind that.
Your future plan?
I intend to actually go into the movie industry. But I don't want to act. I just want to be a consultant for film makers in terms of costume and make up. I also want to have my own make up line, my own creation and make people beautiful. I love Beauty. The ugliest person could be made the most beautiful person in the world through make up. I really want to go into that profession. Another thing I will like to go into is flying, not as an air hostess but just a staff of an airline.