CRESCENT VARSITY PROPRIETOR,AJIBOLA, RECEIVES ANOTHER AWARD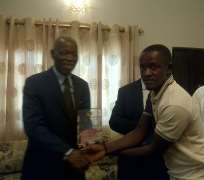 The proprietor of crescent University, Abeokuta, HE Judge Bola Ajibola has been honoured with LEADS Merit Award of the year. The League of Democratic Students (LEADS), an umbrella body for all democratic students' unions in Africa, was founded in 1985 in Bayero University, Kano.
Presenting the award, the National President, Ochekwu Morgan, described Judge Ajibola as a peace builder, erudite administrator and legal giant "who has demonstrated unequalled zeal, zest and dexterity by means of immense professional, technical and legal contributions to fulfil the law mandate, to leave this present generation of Nigerian judicial and higher educational system a lot better than he met it".
Responding, Judge Ajibola expressed his gratitude to the members of the association, saying that he founded Crescent University to bring up children with education plus. He said he was inspired to sell all his assets to nurture children of good character plus knowledge.
He said, serving as Attorney-general and Minister of Justice, he was determined to leave good legacy, buttressing that he served 6 years, 2 months, 20 days and one and a half hours, not collecting kobo either as a gift, salary or remuneration from that government.
Ajibola said 35% of his salary being paid back to the government to assist it run a good government, 25% to the Nigerian Bar Association(NBA) and the rest 40% distributed to eight organisations caring for the needy and the deprived.
He said he also employed three legal practitioners being paid monthly from his pocket to further the needed services of Ministry of Justice at the time.