Gov Rochas Imported Thugs into Awka Anambra state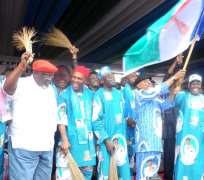 GOV ROCHAS yesterday brought in 2 buses branded with IMO STATE [SECURITY VEHICLES] loaded with IMO STATE THUGS into Awka,the Capital of Anambra state ,he squatted them at WHITE VIEW HOTEL ,IFITE AWKA.
Our reporter who was on sight was shocked on such rascality and display of a sitting Governor and his recklessness by invading another Governors territory without thinking of the consequence of such action .He may be thinking that ,deportation of umuigbo from Lagos and this his act of War is same thing.
Do not forget that late last month he paid Hoodlums to invade Abia state all under the guise of CHURCH PROGRAM but ABIA STATE CHIEF SECURITY OFFICER stopped him.
Now he is on with his blood letting this time in anambra state ,can somebody tell him that ,if he choose to promote violence ,he should transport them to his home town in Adamawa state and not Alaigbo ?.
Sure he has this soft spot for Awusa and APC but must he promote this kind of lunacy in Alaigbo ?
Despite his dream of running as Vice President under APC ,the party has ceded the Presidency to NORTH and vice to Yoroba and leaving Rochas with nothing.