Nigeria tanker explosion kills 70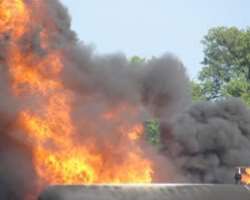 At least 70 people were burnt to death in Nigeria when a fuel tanker exploded, setting fire to five packed minibuses in the southern state of Anambra.
Officials told local media the tanker overturned after it hit a pothole on Friday, sparking the massive blaze.
They said the death toll could rise as the charred remains of the victims were recovered from the minibuses.
A transport official warned that more accidents were likely if nothing was done to improve Nigeria's road network.
"If something isn't done quickly, tragedies like this will happen again," Ben Ekenna of the Federal Road Safety Commission was quoted as saying by AFP news agency.
He said several other people were badly wounded in the accident and were taken to local hospitals.
Accidents on Nigeria's poorly-maintained roads are common.