Taraba House Speaker is dead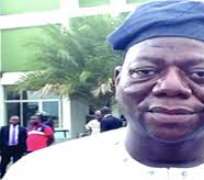 The Speaker of Taraba State House of Assembly, Mr. Haruna Tsokwa, is dead. He was confirmed dead in the early hours of Monday at the Federal Medical Centre, Jalingo.
Tsokwa aged 47, took over as speaker after his predecessor, Mr. Isa Ajiya, was impeached.
The Chief Press Secretary to the acting governor, Mr. Kefas Sule, confirmed the development on Monday.
According to him, Tsokwa suddenly took ill and was rushed to FMC, Jalingo.
He said, 'What you heard is true. He died this morning at the Federal Medical centre, Jalingo.'
The speaker, a known loyalists of Taraba acting Governor, Umar Garba, was engaged in a legal tussle with ailing Governor Danbaba Suntai, over his refusal to accept a letter transmitted  to the state House of Assembly by the governor signifying his intention to resume duties after a 10-month on medical treatment abroad.
It was not immediately ascertained how he died, but it was gathered that he suddenly slumped on Sunday and was rushed to the hospital where he died on Monday.
Meanwhile, Suntai  has described Tsokwa's death as shocking and a colossal loss not just to Taraba State but Nigerian democracy as a whole.
Suntai, in a statement signed by his Chief Press Secretary, Hassan Mijinyawa on Monday, also described Tsokwa as a politician of considerable standing.
The governor said that the speaker died at a time 'when Taraba State is confronted with mild political crisis expected in a vibrant democracy such as ours.
'The late Hon. Tsokwa will be remembered for his ability to stand firm by any cause he believed in and his contribution to the democratic experience in Taraba State.'
Also, the Speaker of the Kwara State of House of Assembly, Mr. Razak  Atunwa, has described the deceased's death as shocking and a great loss to the people of Taraba State and Nigeria in general.
Atunwa in a statement on Monday by his media aide,  Alhaji Abdul-Rahman Sanni,  expressed sadness that the speaker passed on when the people of Taraba State and indeed Nigerians looked on to his leadership to stabilise the state.
He said the deceased had contributed significantly to the political emancipation and socio- economic transformation of  Taraba State.
Atunwa said  Tsokwa would be remembered for his doggedness, steadfastness and commitment towards the stability of the state.