Tragedy as 28 die in Anambra church stampede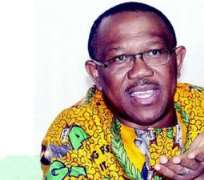 No fewer than 28 people were trampled to death early Saturday in a stampede that occurred  during a vigil at the Holy Ghost Adoration Ground, Uke, in the Idemili North Local Government Area of Anambra State.
The vigil was attended by Governor Peter Obi of Anambra State, the governorship candidate of the All Progressives Grand Alliance, Mr. Willie Obiano and the National Chairman of APGA, Dr. Victor Umeh.
More than 100,000 people, Sunday Punch learnt, gathered at the venue, which is designed to take about 5,000 people.
The incident occurred shortly after Obi and his entourage left the venue.
About 200 victims that survived the stampede were taken to hospitals in Onitsha and Nkpor where of them were treated and discharged
Obi, who later on visited hospitals, where injured persons were taken, promised to set up a panel to investigate the cause of the stampede.
The Anambra State Police Public Relations Officer, Mr. Emeka Chukwuemeka, confirmed the incident but said he could not give figures or state the cause of the incident because investigations were still going on to establish them.
The founder and Spiritual Director of the Holy Ghost Adoration Centre, Rev. Fr. Emmanuel Obinma, a Catholic priest popularly called Ebube Mmuonso (the glory of the Holy Ghost) has also been visiting and praying for the survivors.
Ngige, who is also the governorship candidate of the All Progressives Congress in the November 16 election, had also visited the place and victims to sympathise with them.
There were various versions of what caused the stampede. One of the versions said the stampede occurred when some of the worshippers shouted down Governor Obi while he was addressing the worshippers and went ahead to cause commotion.
Another version said the stampede was caused by supporters of Ngige, Obi's opponent, who in their effort to block the way and cause confusion, shouted 'fire, fire, fire,' thus causing the stampede.
But a media assistant to Ngige, Mr. Igboeli Arinze, told Sunday Punch that Ngige and his supporters had no hand in the Uke incident.