African Youth Day—1st November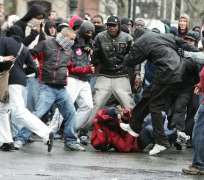 The declaration of the African Youth Day constitutes a significant development in the recognition of the importance of the young people in our continent quest for sustainable development. About 65% of the African population is composed of people below 35 years.
Declaring African Youth Day should not be just an annual celebration but the beginning of a process aimed at a holistic approach to find lasting solution to the numerous problems confronting our youth. The youth are today's workforce and tomorrow's leaders therefore they need and deserve the support of their societies and governments for the sake of our future.
Unfortunately in Africa, the youth seem to be left at the mercy of economic hardships and social injustices which are compelling them to leave the shores of the continent at the peril of their life in the search of greener pastures.
Every day hundreds of African young people die in the Sahara desert and the sea in their attempt to illegally migrate to Europe like recent case of Pendulous' capsized ship where three hundred people lost their lives. This sad situation has become almost like a normal occurrence with no serious efforts on the part of African government to thwart it.
The recent acclaimed economic growth of Africa is not accompanied with the necessary improvement in the living standard of the people particularly the youth. The youth are still jobless therefore not able to release their creative energies for the betterments of living conditions of their societies. The continuous marginalization of the youth renders them vulnerable link in society ready to undertake any unwholesome activity with dire consequences.
On this occasion of the African Youth Day 2013, the All Africa Students Union (AASU) would like to call on African Governments to attach the utmost importance to the issues pertaining to the youth notably the accessibility to education and jobs.
AASU adds, once again, its voice to the cry of the majority of Africans for the rapid political and socio-economic integration of the African continent to enable the free movement of people and goods. The time has come for Africa to speak with one voice, protect and defend any piece of land jointly.
AASU equally demands for the democratization of quality education in Africa; mobility of African students on the continent and their enrollment in the institutions of their choice if they fulfill the entry requirements and the availability space.
Long live African Youth Day!
AWAAH FRED
(Secretary General)
[email protected]/+233(0)243101626