LG Boss' Suspension: Adamawa PDP Asks Lawmakers To Throw Out Nyako's Request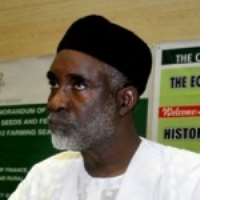 The row over the suspension of  Guyuk Local Government chairman, Ethan Bugie by Adamawa State government over alleged insubordination is generating fresh controversy as the Bamanga Tukur faction of the Peoples Democratic Party (PDP) in the state has  moved to frustrate government's efforts to win over the State House of Assembly .
Since the suspension, Bugie alongside six out of ten of his councilors dumped the New PDP for the Bamanga faction of the party and were publicly assured of protection.
The embattled council chairman who spoke to Daily Trust said he has not received any query or letter of suspension from the government saying he was suspended for refusing to serve his selfish political ends..
Governor Murtala Nyako had sent  a letter dated 18th August,2013 to the state Assembly  seeking  for their confirmation of the suspension of Bugie, citing provision of Section 28 Subsection (2) of Adamawa State Local Government System, Establishment and Administration Law, as amended, which gives him the powers to suspend any local council chairman.
However, the PDP chairman, Chief Joel Madaki in his letter to the Assembly dated 11th September,2011 accused the governor of misrepresenting legal provisions to justify his action. He said the section under consideration empowers the governor to dissolve local council as a body and replace it with a management committee and not to suspend or remove a chairman and swear-in another person in acting capacity.
Questioning the motive behind seeking for confirmation from the Assembly after the suspension had already been executed and acting chairman sworn-in, Madaki advised the lawmakers to maintain their independence and consider the fact that the suspended chairman was never given a fair hearing, nor was he at any time given a query.  He said the governor's request lacks merit and should therefore be rejected.
When contacted the chairman of local government and chieftaincy affairs committee in the Assembly, Usman Lamorde, said he had just returned from Hajj and could therefore not comment.
Press Secretary to the Speaker of Adamawa Assembly, Solomon Kumanga however confirmed receipt of the letter, saying it was read on the floor of the House and then referred to the House committee.