APC To Tukur: Let Nigerians Decide How Long PDP Will Rule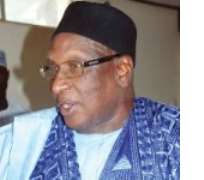 The All Progressives Congress (APC) yesterday said only Nigerians can decide whether President Goodluck Jonathan will rule beyond 2015.
The APC said it was reacting to a statement by the national chairman of the Peoples Democratic Party (PDP) Alhaji Bamanga Tukur that President Goodluck Jonathan will rule till 2019.
The APC national publicity secretary, Alhaji Lai Mohammed ,reminded Tukur that one of his predecessors once boasted that the PDP will rule for 60 years, only for him to leave office in disgrace shortly thereafter.
He said,''There is nothing on ground to justify Tukur's empty boast beyond the PDP's rigging machine, which is again being oiled in readiness for 2015, going by the barefaced vote stealing and unbridled brigandage that the party exhibited in the recent by-election in Delta Central Senatorial District
'The PDP, which has presided over the affairs of Nigeria for the past 14 years, has only succeeded in pushing more people into poverty, with 112 million people now living below the poverty line and millions of children out of school. No sector has been spared the effects of the cluelessness and visionlessness of the PDP and its leaders. What then is the empirical basis for the PDP to continue to rule.'
Lai challenged the PDP chairman to back up his statement that it is time for Nigerian youths to take over the reins of power by first stepping down from his post to pave the way for the younger generation.
'It is interesting that the Chairman said the future belongs to the youths and that the era of Gerontocracy is gone. The last time we checked, a 78-year-old man does not exactly belong to the generation of youths, even if he continues to hold away at the top echelon of the ruling party. The sincerity of that statement is therefore in doubt.
'As for the PDP Chairman's admonition to the youth to start preparing to take over the mantle of leadership, the question to ask is whether or not the undergraduates in the nation's public universities, who have been marooned at home for over four months now because the PDP-led federal government repudiated the agreement it signed with ASUU, are not part of the leaders of tomorrow?
'If Tukur believes they are, he should urgently prevail on the government sired by his party to meet its obligation to ASUU and end the strike by the university teachers. Then we will know that he is serious about his postulation. Until then, we say talk is cheap, because all that we can see now is that the PDP-led federal government is doing everything in its power to mortgage the future of tomorrow's leaders,'' it said.