PDP Bounces Off The Usual Way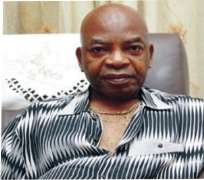 Prince Arthur Eze,a philanthropist and legendary great giver,a Multi Billionaire ,the Prince of UKPO whose passion and unwavering allegiance to PDP has never being in doubt ,even when the UBAH brothers from Uga emasculated him with intimidating wealth ,he remains a power broker in PDP ANAMBRA STATE .
Recently he bought Judgement for Tony Nwoye from Federal Court of Appeal ,which INEC refused to recognise pending a further judgement from SUPREME court ,INEC Cited conflicting judgments from various courts in favor of different candidates.
Last week during the Kick off SAINT PAUL UNIVERSITY ACHINA, where every candidate assembled ,many of them gave donation to the University ,which Chief Obiano gave 5 million ,SIR VICTOR UMEH 10 MILLION and Chief Arthur Eze whispered to the organiser's to announce the donation of 10 million for TONY NWOYE that was before Sir Victor Umeh gave that same amount , then Prince Arthur Eze has to make a second whisper to make it 20 MILLION NAIRA ?.
It is no longer News that Prince Arthur Eze always tell whosoever wants to listen that he made MBADINUJU GOVERNOR ,DR CHRIS NGIGE GOVERNOR and now ,he said and i quote "see Jonathan is a very poor man and he is the President ,and this Tony Nwoye is very very poor ,he has no PAPA OR MAMA and that is why i want to make him a Governor[Truth, Tony Nwoye's father is still much alive and doing business in Onitsha]",so he is projecting him to become a Governor.
Yesterday Prince Arthur Eze assembled all the PG in his LOCAL GOVERNMENT ,DUNUKOFIA, and made them offer of 10 MILLION NAIRA EACH if only they can deliver Tony Nwoye this time around .
Many of them are salivating for such sum and some were heard fantasizing on what to do with the money ,they said it is not their business if the state goes bad as it was during the days of Mbadinuju after all ,onye ube ruru ya rachaa as one of them coined.