Nigeria Immigration Service Promotes Officers In Anambra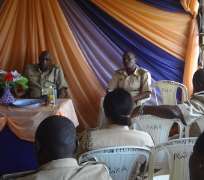 Smiles danced on the cheeks of 12 Officers of Nigeria Immigration Service, Anambra state Command yesterday, as they were promoted to new ranks by the Command Comptroller, Alh. Lawal Malumfashi.
The Officers who were decorated at the command headquarters in Awka, the capital of Anambra state were Mr. Onwubuya Patrick, a Superintendent of Immigration (SI) now raised to the rank of Chief Superintendent of Immigration (CSI); Mrs. Enunwa F.N (from Assistant Superintendent Immigration 1. to Deputy Superintendent Immigration, DSI).
Other beneficiaries include the Command Public Relations Officer, Mr. Okafor C.J; Mr. Ologwu I.O.; Ezeh N.A; Ologwu C.O, and Mr. Keyagha S.T. who were respectively turned from Assistant Superintendents Immigration 2. to Assistant Immigration 1; Mrs. Nsofor Uche; Mr. Umukoro (DC11 to C11); Mrs. Ozougwu Juliana (AC11 to DC11); Mrs. Enujioke L.A and Okpagu E.O (P11 to AC11).
Speaking at the occasion, the state Comptroller Alhaji Lawal Malumfashi, described promotion as a means of encouraging members to be more committed on duties even as he charged the newly decorated Officers to double efforts in order to move the sector and the nation forward.
Alhaji Malumfashi further disclosed that more officers would grace such gesture next month but it would be strictly on merit as usual adding that the sector has successfully transformed Nigeria's border since inception of it incumbent Comptroller General.
While speaking on behalf of the recipients, Mr. Onwubuya Patrick commended the Nigerian Immigration Service for such gesture and in furtherance called on his colleagues to see it as a call to service.
In an interview with the Nation, the Public Relations Officer in the command Mr. Okafor C.J advised his colleagues who could not make it during the promotion exam held recently to trust God as He would eventually hearken to their next time because according to him God promotes one at His convenient time.