HURIWA Embarks On Hunger Strike To Protest Prolonged Closure Of Public Universities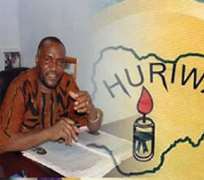 Gentlemen you are welcome. We are briefing you today about our decision to embark on 6am to 6pm hunger strike which took effect from 6am today and will end tomorrow.
We are protesting the 4 months old strike action by ASUU and the non- challant attitude of the federal government to do the needful to enable public universities to re-open for normal academic activities to resume. We view the prolonged strike as a conspiracy by the elites against the commoners and the poor since 90 percent of the students affected by this shameful industrial action are children of the very poor of the Nigeria society. Children of the rich and the political elites are either schooling in some of the best schools in Europe and the USA or if at all are they are in Nigeria school system they are usually enrolled in the few highly expensive private universities whereby their parents pay these obscene school fees using financial resources drawn from the public treasury which they are in custody of as political office holders.
Secondly, the closure of these public universities is a total negation of Nigeria's international obligations in line with eth Universal Declarations of Human Rights Articles 26 which states thus; "everyone has the right to education. Education shall be free, at least in the elementary and fundamental stages. Elementary education shall be compulsory, Technical and Professional education shall be made generally available and higher education shall be equally accessible to all on the basis of merit.
Article 26(2) importantly stressed that; "education shall be directed to the full development of the human personality and to the strengthening of respect for human rights and fundamental freedoms. It shall promote understanding, tolerance and friendship among all nations, racial or religious groups, and shall further the activities of the UN for maintenance of peace.
The continuous closure of public universities is a total breach of the right to development and by so doing will deny the Nigerian Youth of their inalienable rights to enjoy economic, social, cultural and political development.
Denial of education as is being perpetrated through the closure of public universities and other educational institutions amounts to a crime against humanity since it is a direct abuse of all the choicest rights enshrined in chapter four of the Nigerian Constitution.
We hereby call on government to take lawful measures to reopen the public universities even as we urge ASUU to go back to school for the sake of our children.
We acknowledge that it is a serious crime to breach an agreement and we hereby advise that both ASUU and FG should separately constitute legal teams to take position on what legal measures to be adopted to compel government to comply. ASUU may institute legal challenge to question government's violation of the contract signed since 2009 even as the public universities must be reopened and academic activities commenced while the legal questions are being tackled at appropriate industrial and/or court of competent jurisdiction on its part, FG must adequately fund the educational sector optimally by cutting down on high cost of governance and by adopting the Steve Oronsanye's report to reduce the number of agencies that do some jobs at exorbitant cost to the Nigerian people.
This is only the first phase of our civil disobedience activity as we will proceed to the next stage if after 14 days the strike is not called off.
* Comrade Emmanuel Onwubiko; National Coordinator.