HERITAGE IS GOLDMINE FOR AFRICA, SAYS PROFESSOR CHARLES BIKOI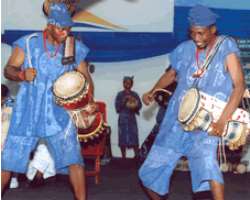 Heritage is goldmine for Africa, says Professor Charles Bikoi
By SOLA BALOGUN
Thursday, March 04 , 2010
Artistes performing during Black History Festival
As a speedy move towards economic development, African countries were recently urged to harness and promote their various cultural and heritage products. The products, whether tangible or intangible, are capable of bailing the continent out of poverty if well preserved and showcased to the global community.
Professor Charles Binam Bikoi, Executive Secretary of the Regional Centre for Research and Documentation on Oral Tradition and the Development of African Languages, Yaounde, Cameroon (CERDOTOLA) made this assertion recently in Ibadan, Nigeria. Bikoi was guest lecturer at the just concluded yearly Black History Festival organized by the Centre for Black and African Arts and Civilization (CBAAC).
In his paper, Arts and Heritage as a Catalyst for Development in Africa, delivered at Trenchard Hall, University of Ibadan, Bikoi explained how arts and heritage/tradition can trigger development. While emphasizing on the UNESCO declaration on cultural heritage, which is both material and immaterial, the guest lecturer insisted that African tradition is different from the European, Asia and American traditions. He emphasized on the need for Africans to preserve their identity as well as harness the huge heritage resources and values that can facilitate social, cultural and technological development.
According to Bikoi, every player in the chain of development--from the researcher to the creator and the consumer of cultural products- must connect with his or her historical past, and identify which ones can give impetus to the aspirations of the new world.
He explained further, 'There is no doubt that arts and heritage or tradition can be considered as catalysts for development of Africa. So Africans, including scholars, policy makers and cultural operators should stand and treat them as values for development. They should adopt professional approach to the treatment of the topic and build new strategies towards marketing African products to the international community.'
Bikoi observed that African tradition in the 21st century should not be a final product, stereotyped or fixed. Rather it must be reinvented, everyday, by Africans themselves, in a sort of dialectic praxis'.
His words ' African tradition in the 21st century will not limit itself to serving as just any massage, but as a massage that serves a purpose, a sort of response, on the basis of yesterday's responses, to today's problems.''
Also Senator Bello Gada, Minister of Tourism, Culture and National Orientation buttressed Bikoi while enumerating potentials of African arts and heritage. He added however, that for the envisaged development to be achieved, all hands must be on deck. His words 'We should fashion out ways by which these and more could be realized. We can use our arts and heritage to achieve the aspired growth by updating our laws on tourism. Let me assure you all that the ministry under my leadership believes very strongly on this strategy and intend to pursue these reforming initiatives vigorously beginning with the implementation of the work and plans for our 2010 budget.'
For Professor Tunde Babawale, Director General of CBAAC, ' Arts and heritage are those artistic, cultural and natural endowments (such as landscapes, historic places and sites) that provide clues about the past artistic creativity, cultural practices, knowledge systems and experiences of the people. They also include rare collections of natural history specimens (like rocks, mineral, fossils, artistic and scientific values such as old manuscripts and books, buildings, monuments, archaeological sites and cultural landscapes. The continent is richly endowed with arts and heritage materials that can break the continent's mono-cultural economies and propel it to prosperity.''
Babawale added that the African continent is richly blessed with human, material and environmental resources that can be harnessed for development. Only that these resources remain largely untapped and underutilized. Explained the DG 'While many African countries may not have mineral resources that are fabulous income earners, no country on the continent can claim that it does not have arts and heritage materials that can attract economic attention to it. Perhaps the situation we have is that the required attention has not been given to the exploration of the arts and heritage materials that are peculiar and unique to it. If explored and the gains are properly used, Africa's arts and heritage are capable of providing direct economic benefits to many African countries. They can help in creating jobs, attracting investments, generating improved stimulating the growth of local economies through tourism and consumer purchases.''
CBAAC was established purpo sely to encourage, initiate, facilitate and coordinate the preservation and survival of Black and African peoples' arts and heritage. The c entre under Babawale initiated the discourse to deliberate on the best ways African arts and heritage can be used to facilitate economic growth. For example, the Centre in May 2007 organised a public lecture around similar theme in commemoration of International Museums Day. The Centre also re-opened discussion and is now at the forefront of campaign to return not only the stolen Queen Idia Mask of Benin but other African arts and heritage with the British government.