Yar'adua contemplates Niger Delta Fund as MEND cuts West African Gas Pipeline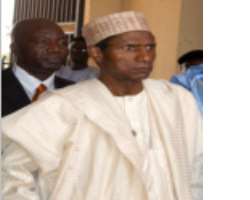 With contingency plans for an all-out military strike against militants in the Niger Delta pending activation, beleaguered President Umaru Musa Yar'adua is now considering setting up a bank dedicated to the region's defense amid fears of a possible backlash that might drastically disrupt oil production in the region.
Details of the plan are yet to be finalized but sources tell Huhuonline.com that the establishment of the bank, code-named Maritime Cabotage Bank would be financed by contributions from oil companies operating in the Niger Delta and which have fallen victim to assault from local militants. The idea was mooted to the President as the latest government ultimatum to MEND to lay down its arms ran out on October 4.
Sources also tell Huhuonline.com that unable to fashion a coherent response to the militants that were yet to accept the government's amnesty offer, Yar'adua seems poised to offer yet another deadline for MEND militants to lay down their weapons. An announcement to this effect is expected soon, to be followed by high level negotiations between the government and a skilled team of intermediaries to negotiate amnesty for the remaining high ranking MEND leaders, including Chief Ekpemupolo aka Tompolo.
As Huhuonline.com published previously, the intermediaries will include Nobel laureate, Wole Soyinka, who will have the status as an observer. Other members include Sabella Ogbobode Abidde, the Ijaw political analyst based in Washington DC, USA; a former army general, Luke Kakadu Aprezi and a former chief-of-staff who hails from the Edo oil state, Okhai Mike Akhigbe.
After long months of uncertainty, the Niger Delta region has become the theatre of a struggle between the government that wants to increase the revenue it earns from the sector and oil majors which are anxious to reduce their exposure to disruption by militant who have caused oil production to drop by as much as 1.3 million bpd. The Niger Delta Fund is expected to play a stabilizing role and to cushion the negative impacts on government finances and revenue for the oil companies.
Huhuonline.com has learned that the West African Gas Pipeline (WAGP) that runs from Nigeria to Ghana by way of Togo and Benin has not been supplied with gas since mid-May. That is apparently the result of sabotage of Nigerian Gas Company's ELPS gas pipeline in the Niger Delta by MEND. The incident led to a sharp drop in Nigeria's production and to the complete closedown of WAGP.
The Nigerian concern DeWayles has been working since May to repair ELPS but no date has yet been set for a resumption of service. The consortium West African Gas Pipeline Co (WAPco) which manages WAGP still aims to deliver some 133 mmscfd by the end of the first quarter of 2010 but that will depend on the situation in the Delta. The cost of the 600 km-long pipeline had long been initially estimated at USD 600 million but was recently revised upwards to $1 billion by the shareholders.
To improve security of the gas pipeline outside of Nigeria, WAPco is prodding member countries to draft legislation protecting the line from vandals. WAPco is a mix of private and public concerns, with Chevron and Shell on one side - respectively owning 36.7% and 16.3%- and the state owned Nigerian National Petroleum Co (NNPC, 25%), the Volta River Authority (16.3%) and Societe Togolaise de Gaz and Societe Beninoise de Gaz (2% each) on the other.
Meanwhile, the Nigerian Navy continues to fortify its military arsenal ahead of the potential strike against militants. It recently acquired Israeli Shaldag Mk-2 patrol boats and six Manta-class Offshore Patrol Vessels from Indonesia, as well as an Agusta A109E helicopter from Italy's AgustaWestland. But to round out its fleet, sources tell Huhuonline.com that the Navy now wants to also buy corvettes and speed-boats.
|
Article source