Lafarge Wapco to increase production capacity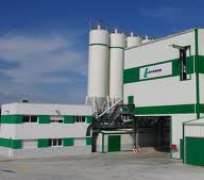 Lafarge Wapco Cement Nigeria Plc. has concluded plans to increase its cement production capacity in Nigeria, in a bid to meet growing demand for the product, according to the company's MD/CEO Joseph Hudson.
He said that with rising demand for cement in the country, an increase in disposable income and government spending on infrastructure, it became imperative for the company increase out in order to meet spiraling demand.
Hudson promised that the capacity enhancement would take place soon.
He spoke at Lafarge Wapco head office  in Lagos.
He said with 16 per cent growth rate in the first quarter of 2013, the cement market could grow up to 50 million metric tonnes per annum (mtpa) from current 30 mtpa in just a few years, adding that the company plans to properly align itself to benefit from this growth.
'When you look at this market, with the demographic growth, we think potentially this is a 50 million ton market.' He added.
The manufacturer, which has a global research and development budget of $150 million, said it will leverage on its international heritage to provide new innovation and premium products to meet the needs of the Nigerian market.
With a production capacity of about 8.5 million mtpa, Lafarge is the second largest cement manufacturer in Nigeria, only behind Dangote Cement, owned by Africa's richest man, Aliko Dangote.