National dialogue outcome 'll be sent to N'Assembly - Jonathan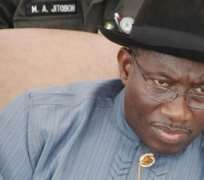 President Goodluck Jonathan on Tuesday gave a clearer picture of the kind of national dialogue he is putting together when he said the outcome of the national conference would be sent to the National Assembly.
This means that the conference will not have sovereign powers after all, whose outcome could be legitimized by a referendum. Besides, he has deviated from the initial impression that the national dialogue committee headed by Femi Okonmu would out the modalities of the talks.
Jonathan he would forward the outcome of the national conference to the National Assembly so that it would form an integral part of the ongoing Constitution amendment.
Jonathan spoke at the Presidential Villa, Abuja while receiving the Muslim community in the Federal Capital Territory led by Vice President Namadi Sambo and the Minister of State for Federal Capital Territory, Olajumoke Akinjide, who paid him the traditional Sallah homage.
He scolded some unnamed Nigerian elders whom he accused of making provocative statements in the mass media, thereby instigating one group against another.
He said such elders, who were supposed to give the nation the right leadership, always quarrel over nothing and end up insulting themselves while engaging in discussions that lacked direction.
Jonathan further explained that his decision to set up a committee that would work out the framework for a national dialogue was borne out of his desire to provide a platform for Nigerians to engage in discussions that would have direction.
He wondered why some Nigerians impugn the intentions of government in setting up the committee despite his repeated assurance of his sincerity.
He said, 'In Nigeria, we must work very hard, we must talk to ourselves in a way that our children will not develop hate among themselves. And that is one of the key reasons that we decided to have a conversation as a nation.
'At times, when you listen to radio and read newspapers, you see even our elders that are supposed to give us leadership quarreling over nothing. And sometimes even insulting themselves and even making provocative statements that will sometimes instigate one group against the other.
'We decided that we cannot continue that way, the talking must have a direction. What has been happening on the pages of the newspapers are discussions that have no direction.
'We want a country that will have a direction so the discussions must have a direction, the discussions must lead Nigeria to where we want to be, not a divided Nigeria, not a Nigeria that is sown on hate, not a Nigeria that will be based on acrimony, ethnicity and tribal sentiments in the way we conduct ourselves.
'That is the reason we set up that committee and we have given them the free will. Some people are still instigating others that the President is doing this, the government does not have the capacity to do that. We are totally committed to do what is right. We don't need to carry cain to flog Nigerians to show that we are determined.'
He said it was left for all Nigerians to impress it on their representatives in the National Assembly and state Houses of Assembly because state and federal parliaments must work together to ensure that the outcomes were properly enshrined in the Constitution in order to have a better nation.
He assured Nigerians that his administration was totally committed to ensuring that it handed over a country whose citizens would live in peace and the next generation would be proud of.
He reiterated his position that the killings in some parts of the country had nothing to do with religion or ethnicity.