Ogoni Will Not Be Part Of Niger Delta Republic If Nigeria Breakup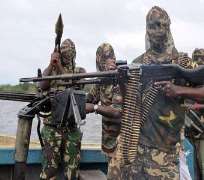 A true Sovereign National Conference (SNC), which most Nigerians have for many years demanded, will bring all the forced ethnic nations, which formed Nigeria against their wish to discuss possible way forward. This will be on honest and respectful terms that will work for all, including agreeing to peaceful disintegration of the contraption, form as many nation-states as the ethnic nations agrees or they can just go their different ways. I've always advocated and anticipated that day when Nigerians really understand and are honest about their problems with a determination to solving them.
Because it's unjust and unhealthy as evident since the illegal and imposed birth of Nigeria, to force people to live together against their wish, and as the former Soviet Union and Yugoslavia lessons among others shows. Where there is no acceptable solution and agreement by all to stay together as one Nigeria that currently exist not, but by guns to the head as did the British colonialists and in the event of Goodluck Jonathan's proposed conference there comes breakup hence an anticipated Niger delta Republic.
Ogoni will not join this new republic. It will not join any other new or old republic; rather will return to its precolonial independence.
This as with other positions taken on Ogoni political autonomy and self-determination should serve as a guide to Nigerians, especially those threatening secession and a new country for Niger delta. Though some who could misread and misconstrue my recent article titled Jonathan's National Conference is due to his second term fear, might be thinking I'm against a Sovereign National conference, even though Jonathan didn't inaugurate a committee for such. Rather he shifted his position from "No need for a Sovereign National Conference (see Nigerian Daily Times news of Feb 16, 2012) to forming the said committee.
Jonathan seemed to have believed there was no need for a SNC or he was deceiving the public when he set up the Justice Alfa Belgore presidential constitution review committee. He found comfort now that he fears losing his political office in 2015 presidential election and have militants' support for breakup and possible Niger delta Republic. In retrospect, I wrote among other pieces relating to Nigeria the topic, True Cure for Nigeria is Sovereign National Conference, in 2011 as can be seen via this link http://www.thenigerianvoice.com/nvnews/77932/1/true-cure-for-nigeria-is-sovereign-national-confer.html.
I believe such national talk-shop should be genuine and devoid of all kinds of scheming and it should be the agreement and work of all or most ethnic groups once a sitting government gives needed nod or if in a chaotic setting such as serious national strife, complete breakdown of law and order or war situation. I'm also a fervent advocate of Nigeria's disintegration because the concoction isn't and will not work despite the guns/tanks, as my opinions, comments in different fora shows.
In addition, it's a factual matter that the visionary, honorable and prophetic Ken Saro-Wiwa, who brought the new Niger delta/Nigeria's consciousness of freedom and rights, was one of the few fearless, honest and selfless leaders of thoughts and deeds who advocated a SNC. Unfortunately, opinion rulers and politicians, government led by Sanni Abacha, an Hausa-Fulani, one of the so-called majority ethnic groups bent on stealing Ogoni/Niger delta nations' oil and gas then destroy their environment and lives saw him as an enemy.
Nigeria unjustifiably murdered him alongside 8 others by hanging and from his birthday that's Oct. 10th. But because he's larger than life his thoughts for a better and democratic Nigeria, SNC and the urgency that comes with them are still with Nigerians and the world. Indeed the same crooked and old brigade of rulers exists today, thus nothing has changed and Nigeria remains "On a Darkling plain."
Saro-Wiwa, though led a peaceful and intellectual movement once declared that, the dynamics of history dictates Nigeria's disintegration or secession given the epileptic structuring and disrespect, oppression of minority groups, greed and mismanagement by the confused, wicked and deadly rulers. He also said during his hogwash trial that, "any nation which can do to its people what Nigeria has done to Ogoni loses claim to its independence and freedom from external influence."
He continued: "whether the peaceful ways I've favored will prevail, depends on what the oppressors decide," and we saw Ijaw militants sprang up in 2004. In addition, Saro-Wiwa declared that $hell is on trial alongside Nigeria and its rulers; and the lessons learned shall be of importance to the rogue company. We've seen the company going through trials of late, and are seeing Nigeria nearing a failed state.
It's moving fast toward disorderly or anarchical, state of nature, where according to Thomas Hobbes life becomes solitary, poor, brutish, nasty and short in the absence of an organized system. See Leviathan, by Hobbes, though Thomas Aquinas who discussed state of nature, and used statum primi or the primitive state, like Aristotle and John Locke among others wrote on the state of nature with different or similar meaning.
Therefore, given the above postulations and the many media evidence about Niger delta (meaning Ijaws) militants' threats for SNC and Niger delta Republic. Disintegration and said republic is most likely and as a preconceived and determined notion and dream. I refer you to the story of an outstanding Ijaw leader Isaac Adaka Jasper Boro, who in February 1966 formed the Niger Delta Volunteer Force mainly of Ijaws and embarked on a 12-day insurgency, declaring Niger delta Republic haven't witnessed the cheats and oppression by the Nigerian state.
In this stance a new Niger delta Republic will be a great thing for the Ijaws and others who may join-in, though Ogonis have learned their lessons and shall not be beaten twice. As such there shall be need to settle the issue of who are Niger deltans, those who will be part of the new republic once and for all at the conference or in pre-talk sessions and not postpone as did Nigeria before independence, therefore these issues and conflict of interest by different nations forced into one entity. That's, if the conference holds and strife up to war doesn't overtake it.
Because the probability for a Niger delta Republic is high and the fact that we already know what this republic will be like, Ogoni will stand alone and free from this republic so anticipated. No gainsaying the fact that such gross insecurity, ineptness, greed and corruption, which have become prevalent and conspicuous in Nigeria under Jonathan, will pervade Niger delta Republic so long as the Jonathans are in charge of business. Not to mention the many issues of riverine and upland dichotomy, superiority struggle between the Ijaw-Kalabari people (riverine) and Ikwerres, Ogonis and others (uplanders) in Rivers State before Ijaws were carved into BAYELSA State. These deep struggles and hard feelings exist to date.
So knowing what we already know and added to Jonathan's brazen lies and blatant refusal to implement the UNEP report on Ogoni, which shows his and people's interest is that Ogonis be exterminated from the Earth's surface. Ogoni declares and stands firm that, it will not be part of this Niger delta Republic.
Ijaws shouldn't make the same mistake Britain and Nigeria made that they or we now struggle against. Lessons should be learned from history else it repeats itself negatively that more of these threats and conferences shall become the reality of anticipated Niger delta Republic and groups, shall force others against their wish and interest.
Ogoni ethnic nationality's population of about two million is currently larger than about 20 or more countries of the world. It can form a government; create formidable security and defense apparatus. It can make treaty with other nations and has quality-grade human and natural mineral resources. Ogoni has a unique territory that isn't in dispute with any other Nigerian group. It's one of the best places to live on earth especially if developed, thus qualifies by international law test to be independent nation-state. Ogonis are content with their land and has no history of forcing others' land or territories.
It's older than Nigeria, didn't sign any document with British colonial masters or Nigeria, which didn't fight and conquer her like Britain to give up its precolonial sovereignty and so will return to its independence. Ogonis will observe long intercepted and unholy denial of self-rule or self-governance before the birth of Nigeria and after. This is when the people's demand for state and political power weren't respected and accorded like other groups not more ethnic, more human nor have any special traits than Ogonis were given to facilitate their development and growth that helps sustainability, stability, joy and happiness deprived the people.
It's therefore instructive for Nigerians and those demanding Niger delta Republic to note that, Ogonis didn't struggle, think deep, and raise ideas, issues, especially the Ogoni questions, which are also the Nigerian questions then their blood innocently spilled to become second fiddles, beggars or slaves to other ethnic nationalities of Nigeria. Never shall this further become our fate! Ogoni and its people have come of age raising local, regional, national and international consciousness for socio-cultural, nationality, economic, and political freedom and justice. It's time Nigerian ethnic groups respect and accord the people of Ogoni merited place of wisdom, sacrifice and hard work instead of consistently acting like a master-races that will not take anyone anywhere. Ogoni will not settle for less, but shall take its rightful place of independence.
Disclaimer:

"The views/contents expressed in this article are the sole responsibility of

Ben Ikari

and do not necessarily reflect those of The Nigerian Voice. The Nigerian Voice will not be responsible or liable for any inaccurate or incorrect statements contained in this article."
Articles by Ben Ikari