MUCH ADO ABOUT THE NATIONAL DIALOGUE OR CONFERENCE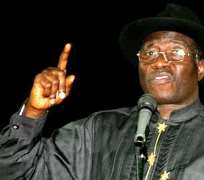 A lot of comments, threats and all sorts of tough talks have been made since the President's announcement of the decision to convene a National Dialogue or National Conference to resolve the myriad of issues besetting our beloved nation, and the subsequent inauguration of an Advisory Committee to set the agenda for that purpose; and there have equally been talks of support for the initiative. Some of the negative comments and tough talks have been perilously close to 'Hopeless Cynicism' while others seem to insinuate a hidden agenda by the Administration. There have also been some diversionary talks linking the oil resource of the Niger Delta to the proposed National Dialogue, and we wonder what those touting such talks hope to achieve, but perhaps this why former Information Minister and now Director-General of the Nigerian Economic Summit Group (NESG), Frank Nweke Jnr. yesterday, in a major television programme opined that something should happen to Nigeria's oil, so that there will be no more oil in Nigeria; because as he said, a situation where people are sitting down as Governors and as States, and all you can say for yourself is that every month, you go and bring money, and then you come and distribute it anyway you want, in a most unaccountable manner is unacceptable because if that is your view about governance, then there is a problem with it.
It is indeed unbelievable, the kind of vitriolic and irrational tantrums thrown by even those who had hitherto called for a Sovereign National Conference. One of the core leaders of the Opposition said the other day on his return from medical treatment overseas that the proposed National Conference is ill-timed, and is simply a ploy since elections are just fifteen months or eighteen months away. But the question we are asking is when will it ever be the right time to hold one? It is a known fact that those who have never suffered unduly from injustice and inequalities will always want to dictate to others about their rights, and to tell them to wait for a more convenient time, which invariably means never. But we must all come to realise in this country that the time is always right to do the right thing. Regardless of how you feel about this President and his policies (and frankly speaking, we detest most of his policies too), we should at least agree that on this one, he is on the right footing; and we must all give him the benefit of doubt, else you betray the notion, that you have more than an axe to grind with him. So, we call on those in doubt and indeed the Nigerian people to give the President a break on this one. Let us give him the benefit of doubt and the chance to prove his mettle; if he must fail on this project, let him fail on his own, but let it not be said that the Nigerian people were the cause of his failure.
And we also call on Governor Sule Lamido of Jigawa State who said his State would not participate in the proposed National Conference and others in his line of thinking to reconsider their stand because in a Democracy, what cannot be allowed to stand, is the notion that if a minority cannot convince the majority to agree with them, they will ground down the government and the entire nation, until they get their way. This is especially so, given the fact that the Governor has not conducted a referendum or even an opinion poll in his State to know how his people feel towards such a Conference; he hasn't even seen the agenda or modalities for the proposed National Dialogue. If Governor Lamido and his ilk's do not desist from this sort of appalling behaviour, they will end up like the proverbial sacrificial chicken that our fellow citizen, Azuka Onwuka wrote about earlier on today on his Facebook Page; hear him: 'Gov Sule Lamido said Jigawa will not participate in the National Conference, even without seeing the modalities for the Conference or conducting a referendum to get the true wishes of the majority. It reminds me of the story behind the reason the chicken is used most for sacrifice. Long ago when lizards were few and far between, when a pathway ran under the ukwa tree, all the animals convened a Global Conference to find a solution to their incessant use by men for sacrifice. The chicken was busy as usual searching the ground for whatever. He told the animals that he would abide by whatever decision reached. So the animals agreed that the chicken should thenceforth be used for sacrifice. The chicken had no reason to disagree because he was not at the Conference and had given his word. We will remind Mr Lamido and Jigawa people of this when they start complaining in the years to come.'
With fortitude and determination,
Eneruvie Enakoko
Editor in Chief & Chief Executive
Conscience Reports
Disclaimer:

"The views/contents expressed in this article are the sole responsibility of

Eneruvie Enakoko

and do not necessarily reflect those of The Nigerian Voice. The Nigerian Voice will not be responsible or liable for any inaccurate or incorrect statements contained in this article."