APC Flag Off At Onitsa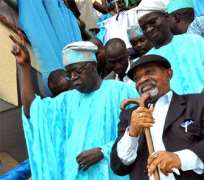 LIVE at Holy Trinity Onitsha were DR CHRIS NGIGE , a true son of Idemmili decided to insult the OBI OF ONITSHA .
Today Obi of the Onitsha is holding his OFFALLA FESTIVAL at Onitsha and Dr Ngige always mischievous decided to insult the tradition,the most revered Igwe in igbo land ,he decided to share the attention with him,therefore he set the stage to flag off his campaign the day OBI OF ONITSHA is having his OFALLA,even that comes once in a while.
Be it on record that no YOROBA BASTARD will dare commit such sacriledge in Yoroba land without consequences ,but here we are ,our own son,who happens to be a serving SINATOR conspired with Yoroba's to bring in maggots and smear the Ofalla of Okagbue.
Well the event was schedule to start by 10 am ,but as the gods of the land decided to send rain to tell our errant son that he is in bad with the god;s ,not minding the first time he had an agreement with Okija and defaulted.
As we speak less than 200 people are standing by as crowd ,some armed with pure water which we cannot tell if it is for drinking or registering their disagreement with his supporting of deportation of umuigbo.
What bites the mind is what is at the back of SINATOR NGIGE'S mind for him to dare the people of Onitsha at their own soil and on thier own OFALLA ?,THE gods MUST BE CRAZY on this man.
Meanwhile effort to get Ngige to start off the occasion met a stone wall as he is barking that no body will tell him when to start and he is not going to start without his godfather TINUBU,all the governors slated to attend ,none is yet to arrive.
My worry is ,how can nwa afo Idemmili be this lost ? there is no Yoroba nor awusa that can schedule event on the day OBA or Emir is having his own thing.
TINUBU NGIGE AND FASHOLA 649019438