Smart Campus 2013 Commences With Web Seminars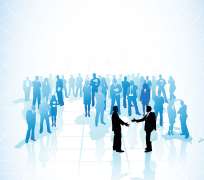 As a build up to the 2013 Edition of the Annual Smart Campus Conference scheduled to hold in November 2013, three different webinars are scheduled to hold in October.
These events are web based seminars scheduled to hold for 60 minutes on each respective date. The targeted participants at the event are the ICT Directors of tertiary institutions, thought leaders in the educational sector and representatives of student bodies.
The event will be facilitated by the Smart Campus Team and the various Solutions would be presented by the respective OEM.
While the webinars would primarily be an eye opening event for the participants to discover new technologies in teaching and learning, it would also serve to stimulate creativity and engender the necessary change in mindset required for adoption of global best practices
Participants are required to register on the Smart Campus website in order to indicate their interest, after which they would be sent a hyperlink in order to enter the webinar platform. Participation is based on first come, first served basis. However, interested participants who register but cannot attend the live event will receive a post-event recording of the event via e-mail.
The Webinars are as follows:

Topic: Beyond Incessant strikes, An innovative means for funding
Date: Thursday 17th October 2013
Time: 11:00-12:00hrs GMT

This webinar will provide alternative means of funding which could be adopted locally.
Topic: Mobile Internet on Campuses
Date: Thursday 24th October 2013
Time: 11:00-12:00hrs GMT


This webinar will review the challenges of broadband access on campuses, with focus on enterprise solutions available, security standards, maintenance per year and return on investment.
Topic: Best Practices for Deploying Learning Management Systems
Date: Thursday 31st October 2013
Time: 11:00-12:00hrs GMT

This webinar will explore the conception and deployment of sustainable online teaching and learning methods.
Further details are available at www.smartcampus.com.ng