Where Do Satan and His Demons Live Now? The Gift of Spiritual Discernment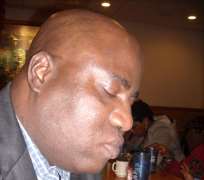 A listener called in on a radio program on Moody Radio, Chicago two weeks ago and asked where Satan and the demons live in the world today. The distinguished radio guest; a doctor of theology, seminary president and an author replied that Satan lives in Pergamum where Antipas, a dedicated disciple of our Lord Jesus Christ was murdered as revealed in Revelation 2: 13. Furthermore, the respected exegetist replied that he thought that demons live in the atmosphere. My wife and I looked at each other as we were listening to the radio program driving on our way home from work. No matter how secularly educated a Christian is and our personal knowledge, each time we neglect what the authentic revealed Word of the True Lord God Almighty, which is the Holy Bible says, we run into trouble. Personal thoughts and self-knowledge are of zero-utility in spiritual matters, for as Elihu said in Job 32: 7-8: "I thought, 'Age should speak; advanced years should teach wisdom. But it is the spirit in a person, the breath of the Almighty that gives them understanding." Although life experiences do help in spiritual matters, but how long will one live on earth to experience enough events that would give one enough wisdom to capture the different trajectories and nuances of life? Consequently, in the School of the Holy Spirit, secular knowledge, thoughts and experiences are students. The Greatest Teacher in life and on spiritual matters is the Holy Spirit, Who is our Lord Jesus Christ and Who is God in the flesh.
Satan does not live in Pergamum where Antipas was murdered as stated in Revelation 2:13 two thousand years after the Book of Revelation was written. All the Seven Churches in Ephesus, Sardis, Pergamum, Thyatira, Smyrna, Philadelphia and Laodicea that our Lord Jesus Christ wrote letters to in Revelation 2 & 3 no longer exist, but the messages sent to them represent the seven types of churches now operating in the world. For those who have the Holy Spirit, it's very easy to know where your church belongs and spiritually operates among those seven churches in today's Christendom. As for the abode of Satan and his demons, demons do not live in the atmosphere but over ninety-percent of them live inside human beings in the world today. As long as some human beings exhibit the foolish pride in the world today and refuse to accept the fact that demons inhabit human beings and use them to carry out their malevolent activities in the affairs of human beings, such human beings do so to their spiritual destruction. Those who inveigh against the fiendish activities of demons in the affairs of human beings do so at their eternal peril. We have given the origin of Satan, how he was created, the 12 elements used in his creation, why God created him, why and how he fell from heavenly grace and his future as revealed by the Holy Spirit in Isaiah 14: 1-22; Ezekiel 28: 14-26, Revelation 20: 10, in previous articles in this column and more in our book; "The Kingdom of Satan Exposed." We do not need to repeat them here.
We have also explained the organogram of Satan and its modus operandi as well. When Satan and one-third of the angels who joined him in rebelling against the Lord God Almighty were flushed out of heaven (Revelation 12: 7-13), they didn't come to the earth as visitors, fun seekers, as vacationers, foreigner or aliens. They were flushed out of heavens and are in murderous rage, unhappy, bitter and desperate and their furies were directed at all the children of Adam and Eve. This is why the world is such in a mess as we see today right from the moment our First Parents; Adam and Eve disobeyed God Almighty and were also driven out of the Garden of Eden. Again, we repeat, those human beings who discount the existence of Satan and his demons and their activities in the affairs of human beings all over the world since the fall do so to their perils. Satan and his demons are not in the atmosphere, they are not aliens or UFOs; they live inside human beings as the Holy Bible revealed. The Bible says Satan is the prince of the power of the air (Ephesians 2:2), but he and his fallen angels do not live in the air. The air is their forte, the strongest weapon in their modus operandi, but that is not their abode. One of the greatest gifts the Holy Spirit can bestow on any of His own is the spiritual gift of discernment: "Now to each one the manifestation of the Spirit is given for the common good. To one there is given distinguishing between spirits…" (1 Corinthians 12: 7, 8, & 10). It is this spiritual discernment that allows us to know Satan and his demons. Many human beings are destroyed according to Hosea 6: 4 and are walking blindly into hell every second, because of this spiritual truth.
What does distinguishing between spirits mean? Satan and his demons do not have physical material bodies like us human beings, thus, they are naturally invisible to us. We human beings cannot see demons with our physical naked eyes, touch them with our material hands, hear them with our normal ears and perceive them with other human senses. Satan and his demons do not live in the spirit world, because they have been expelled and flushed out of that realm (Revelation 12: 7-13). As former angels, their natural habitat should be in heaven, because every creation of the Almighty God has its natural habitat-amphibians, arboreal etc. The fallen angelic creatures as Satan and his renegades and rebels are so called, because they lost their spiritual abodes, although they remain as spirits but disgraced, fallen and disembodied spirits that fell into the super-natural world. These areas are so versed and vast as the Holy Spirit revealed to my co-author and I in "The Kingdom of Satan Exposed," and so we do not have enough space here to rehash them again. Suffice to add however, that no matter the far-flung malevolent activities of Satan and his demons, their Maker, our Lord Jesus Christ knows all their activities and has set boundaries for them in accordance with His rules as the Sovereign Lord of the heavens and the universe and the Nether world. Hallelujah! These fiendish creatures cannot cross and disobey the rules as the Lord God Almighty set up the system. The method through which all these activities going on in the supernatural and spiritual worlds are revealed to those of us called by the True Lord God Almighty is via the gift of discernment of these spirits and their activities. Again, this is a gift and so any Christian favored to have this spiritual gift should not look at him/herself as a special or better Christian. It is what it is; a gift and it is the prerogative of the Holy Spirit on who this great gift should be given in the Body of Christ. Our Lord Jesus Christ gives this gift through the Holy Spirit for a purpose and He stated this purpose in His Great Commission in Mark 16:15-18 thus: "He said to them, "Go into all the world and preach the gospel to all creation. Whoever believes and is baptized will be saved, but whoever does not believe will be condemned. And these signs will accompany those who believe: In my name they will drive out demons; they will speak in new tongues; they will pick up snakes with their hands; and when they drink deadly poison, it will not hurt them at all; they will place their hands on sick people, and they will get well." How can we drive out demons as one of the above commandments stated, if we do not know when and how demons operate? This is what the spiritual gift of discerning spirits is aimed to achieve and why the gift is important. Our Lord Jesus Christ didn't tell us to engage demons in conversations, but we need discernment when the enemies are at work in the lives of human beings. As we go into the world to preach the good news in accordance with the Great Commission, spiritual warfare is inevitable. In other words, Satan will marshal all the denizens of darkness to oppose us, because they do not want people who are perishing to be freed from their demonic strongholds. These demonic thugs attacked and opposed the earthly ministry of our Lord Jesus Christ as He opened the eyes of the blind, cured the leprous, unchained the afflicted, loosed the tongue of the dumb, gave hearing to the deaf, gave freedom to the demon-possessed and raised the dead. Our Lord Jesus Christ gave us a heads up on the eve of His physical departure from the earth that we who are His genuine followers/believers should also expect such Satanic and demonic attacks. But He assured us our fight is a good fight and He had won the victory for us on Calvary and so we are fighting from the position of victory, Hallelujah!
How many Demons are out there? We do not know the exact number of the demons out there and neither did the Holy Bible reveal the number of the one-third of the angels that joined Satan in his rebellion against the Lord God Almighty ( Revelation 12: 1-17). But we know from the Discourse at Night between our Lord Jesus Christ and Nicodemus in John 3: 1-21, the Lord made a fascinating statement in verses 5 & 6: "Jesus answered: Flesh gives birth to flesh, but the Spirit gives birth to spirit" In these verses, our Lord Jesus Christ was talking about those sanctified by the Holy Spirit as a result of their being born-again, and how they would behave and act in their lifestyles according to the Holy Spirit. In other words, anyone who is a Christ-believer and follower will demonstrate such faith and belief in his/her life as manifestations of the in-dwelling Holy Spirit. But those in the flesh will also manifest the activities done by contrary spirits that are not of the Holy Spirit. This analysis jells with what Elihu said in Job 32: 7 & 8 quoted above in this piece, thus in a paraphrased form again; it is the spirit that is in a person that will manifest in that person's life, period! The uniformity of this analysis is evident throughout the Holy Bible.
Apostle Paul explicated more in depth on these dialectics few years later which tied with what Elihu said in Job above, the disclosure by our Lord Jesus Christ to Nicodemus in John and the Pauline literature. Here is how Apostle Paul laid these theses in Galatians 5: 16 & 17. "So I say, walk by the Spirit, and you will not gratify the desires of the flesh. For the flesh desires what is contrary to the Spirit and the Spirit what is contrary to the flesh." These thematic schemas are in tandem with what our Lord Jesus Christ told Nicodemus in John 3: 5& 6 above. Then Paul laid bare his antithesis in Galatians 5: 17b & 18 immediately thus: "They (the flesh and Spirit) are in conflict with each other, so that you are not to do whatever you want. But if you are led by the Spirit, you are not under the law." So how do we recognize what is of the flesh (the domains of Satan and his demons) and the things of the Spirit (Holy Spirit and evidences of spiritual relationship with Jesus Christ) on earth? In a Hegelian fashion, Apostle Paul, the greatest philosopher who ever lived and from his Pauline exegeses we borrowed the craft of doctoral works in the academy proceeded in the same Galatian epistle to itemize those synthetic schemas in perfect harmony in Galatians 5: 19 - 21 thus: "The acts of the flesh are obvious: sexual immorality, impurity and debauchery; idolatry and witchcraft; hatred, discord, jealousy, fits of rage, selfish ambition, dissensions, factions, and envy; drunkenness, orgies, and the like. I warn you, as I did before, that those who live like this will not inherit the kingdom of God." Similarly, he listed those acts that are things of the Spirit in Galatians 5: 22-24 thus: "But the fruit of the Spirit is love, joy, peace, forbearance, kindness, goodness, faithfulness, gentleness and self-control. Against such things there is no law." Like the Doctor of Spiritual Philosophy he was, Apostle Paul now presented his findings, recommendations and conclusions simultaneously in Galatians 5: 44b-26 thus: " Those who belong to Christ Jesus have crucified the flesh with its passions and desires. Since we live by the Spirit, let us keep in step with the Spirit. Let us not become conceited, provoking and envying each other." Consequently, from the above deistic episteme, Apostle Paul offered us a non-noetic grasp of the spiritual and supernatural realms beyond human cognition. So the question arises in this epistemological narrative: how do we discern which spirit is inside any human being? The oxymoronic duality of what is of the flesh and what is of the Spirit as spelt out in the Pauline literature as directed by the Holy Spirit answered this question as stated in the Galatian epistle above. Consequently, to know and understand which spirit controls any human being is to look for the acts listed above, period! Those acts are not mere behavioral activities but are either demonic or of Holy Spirit. These behaviors are constantly acted out in the real lives of human beings in the world. In these two sides of the spiritual aisles, demonic spirits use human beings as their amanuenses and actors/actresses to exhibit demonic expressions in real lives of such human beings. Similarly, the Holy Spirit acts out His features and fruits in the lives of Christians that have the Holy Spirit. As human beings increase in population, demons too have also increased in numbers because "Spirit gives birth to spirits and flesh gives birth to flesh as well." People of the world knows this and that is why, a human being inhabited by the demon of anger could be said to resemble his/her late father or those born into polygamous families will themselves have multiple sex partners unless they become born-again Christians, kick out the demons of sexual immorality and allow the Holy Spirit to cleanse them. When a redeemed child of God is given the gift of discerning of spirits, he/she will be able to know who is on the Lord' s side and those on Satan's domain. The gift helps those who want to come out of Satan and his demons' strangleholds to know how to fight and gain their freedom through deliverance (1 John 1: 1-12). When human beings act out the activities that demons inhabiting them push them to exhibit, people in the Western world psychologize, intellectualize and secularize such demonic activities, but those of us who have the gift of spiritual discernment know better. Any time a human being disobeys the Lord's laws, either ignorantly or willfully, Satan and his demons have the spiritual legal right to inhabit the material body of such a law breaker. Even Christians who break such laws are susceptible to demonic infestations, unless such sin is confessed immediately and the Blood of our Lord Jesus Christ is invoked to cleanse that sin (1 John 2: 1). In our book: "The Kingdom of Satan Exposed," we dealt extensively on the three levels of demonic operation in the lives of non-believers and through the gift of spiritual discernment by the Holy Spirit, we have much to say in the 600-page book on how Christians can fall into the snares of the lawless ones.
NEXT WEEK: We will continue with our series on the Gifts of the Holy Spirit next week by rounding up the series which began about five weeks ago with a look at the last two gifts of speaking in different tongues and interpretation of tongues. Many Christians often confuse speaking in tongues with praying in tongues and the gift of interpretation of speaking in tongues. The gift of speaking in tongues is markedly different from praying in tongues and there are also two interpretations of different tongues as the Word of God revealed in the Holy Bible. After next week, we shall go to heavens. You see, we looked at the Kingdom of Satan and its activities in previous articles in this column and we followed this up in our new 600-page book: "The Kingdom of Satan Exposed," now out in eBook form, which will be followed by the print edition next year. The full title of the tome is: "The Kingdom of Satan Exposed, Activities of Principalities and Demon Worship in our World Today: Inside the World of Witchcraft, Voodoo, Warlocks and Spiritual Warfare. With Special Sections on Interpreting Dreams and Is Muslims' Allah God Almighty? A Spiritual Expose of the Religion of Islam by a former Muslim now a Born-Again Christian." Get this book and expand your spiritual horizon. Since the Kingdom of Stan has been exposed, most Christians want to know how heavens look like. We will begin the series on heavens in November. Watch out.
WORLD PROPHECY: This is huge! Something of global importance, an earth-shattering event and a cosmic occurrence is in the offing in the world. I don't know what it is but the Holy Bible has predicted it and we shall all see it with our very eyes soon. This event is part of end-time prophecy and it's about to take place very, very soon in the next 12 to 24 months. I don't know what it is; I repeat again, I wasn't shown what it is but again, it's HUGE. The whole world will be shocked; from the rising of the sun to the setting of the sun; from the East to the West; from the South to the North, the planet earth is about to witness a catastrophic event. The Divine Hand of God Almighty, the Creator of the heavens and the universe, Our Lord and Savior Jesus Christ is about to intervene in the affairs of humanity. The world media, the commentariat, the scientists, the astrologers, the men and women of earthly wisdom and their ilk will be talking their heads out but will not be able to explain but those who know the True God will be unshaken and unperturbed. What is it? I wasn't shown but was only told (Luke 21:11 & 25). I have been repeating the above prophetic words almost a year since this column debuted and as events unfold around the world, I will not comment on the unfolding drama in Syria. Also in the news is the current rapprochement between Washington DC and Tehran. As this column was going to bed this week, Prime Minister Benjamin Netanyahu was meeting with President Obama on the new tune being sung by the Ayatollahs of Iran on the sanctions crippling their nation. Again, let's keep our fingers crossed as events play out in the most volatile areas of the world, but one thing is certain, biblical prophecies are being fulfilled right before our eyes.
CURRENT AFFAIRS:
How to Right the Wrongs of 1999: I had a telephone discussion with my friend, Mr. Opeyemi Bamidele two years ago while he was a commissioner in Lagos State. Midway, I remarked that, how I wished Sani Abacha had not died so the issue of Nigerian conundrum would have been settled once and for all. The young man cut off our conversation and I was taken aback. You see, for someone who suffered in the Gulag of the late military cretin, I should be the last person to rue his demise, so I expected my friend to listen to my explanation. Obviously the young man was spiritually obtuse to listen. Any person who offers him/herself for public service should have the patience to listen to contrary views, however unpalatable such views are. A mind that insists to be heard at all costs but refuses to listen to other uncomfortable viewpoints is a sick mind. Our friend is adopting the same gruffy attitude right now to his governorship over-ambition in Ekiti State. The aim of political participation is public service. When a friend is in public service and he's performing well, you rally round him to ensure his success as Gov. Kayode Fayemi is doing in Ekiti State. But when you stretch the limits of political participation beyond the noble objective to serve the people and misconstrue public service with selfish over-ambition, you deceive the people. The personal should not become the ideal of any seeker of public service, otherwise, such quest soon become the avenue for serving self than the people. Nigeria is currently wobbling because of the mistake that we all made in 1999. The reason I wished Abacha had lived was that, we would solved the current sorry state of Nigeria once and for all. You see, if it needs another civil war to let Nigeria unravel once and for all, it would have been better than the periodic postponement of cleansing Nigeria once and for all. In 1999, two things would have occurred: a civil war or a people revolution, which would have emancipated the Nigerian masses once and for all. But the military-civilian complex stepped in, took out both Abacha and Abiola and kibosh the incipient revolution. A carpet beggar was foisted on the Nigerian people and a deceptive democracy began and helpless Nigerians applauded. But for those who could see beyond the façade, we knew Nigeria is just postponing the evil day. Ghana, Nigeria's neighbor to the West faced its problems frontally and confronted them. A lieutenant came and cleansed the Augean stable and today, the fruits of Rawling's revolution are discernible. Nigeria cannot escape the dialectics of history. The country is back to square one now and the fundamental issues we are afraid to confront in Nigeria have metastasized. Now that the nation's economy is in comatose and Jonathan continues to lie to his country men and women, the hen will soon come home to roost. This was the analysis I wanted to give to Mr. Opeyemi Bamidele, which he didn't want to hear. A public office holder who is impatient has nothing to offer. I hope our friend will not squander his political future on the expediency of the moment and end up in political oblivion sooner than later. A word is enough for the wise so the adage goes.
Let Mr. Jonathan Contests in 2015: It is actually moot now whether a secret agreement exists between Mr. Jonathan and politicians from the northern part of Nigeria to the effect that Mr. Jonathan should serve a one-term as president. I think the dour fellow should be allowed to contest in 2015, rather than dissipating energies on a secret pact of a-one-term or his constitutional right to contest in 2015. If Mr. Jonathan wants to put his political head on the chopping block, I think he should be allowed to do so, but if those against Jonathan are really serious to displace him, this is the time to look for a competent person to take him on. I was among those who left here in the United States in 2010 to mobilize for Mr. Jonathan and went to his home village of Otuoke, Bayelsa State to vote for him. I did it on principles; that he was entitled to step into late Umaru Yar' Adua's shoes after the latter's demise and a minority should be tested for the plum job. I thought as a PhD holder, the man would change the course of history and make us proud. As I have openly confessed and asked for forgiveness in my column, I made a terrible mistake. I have apologized to those who called and sent email to me on my misjudgment. Mr. Jonathan is a train wreck and it should be pretty easy for the opposition to whip him silly electronically in 2015. Unless Mr. Jonathan fixes the next election, he cannot win re-election, period! And if he tries to tamper with the 2015 presidential election, it will also be pretty easy to take him out. Even here in the United States, concerns are mounting on the road Mr. Jonathan is taking Nigeria and this should be resolved once and for all in 2015. He has squandered all his political good will and good luck and the nPDP and the rest opposition should jettison their political differences and present a credible, competent and able opponent against Mr. Jonathan. He has messed the place for his minority Ijaw tribe and has spoiled it for them. Let Jonathan contests in 2015 and allow Nigerians to send him back to his creek homeland.
FROM MY MAIL-BAG THIS WEEK:
"I love your expository discourse on prophesy and prophecy. It was an eye opener. Please direct me on how to get your ministry materials here in Nigeria, including the one from which you drew this discourse. And please, if you have any book on money and the believer, kindly intimate me accordingly…Mr. Charles Godswill, Nigeria
Thank you Mr. Godswill, my ministry materials are parts of the weekly column articles I write here and if you try amazon and Barnes and noble, you will be able to access some of my published books. Right now, our eBook referenced above is available. Or you can contact me directly via my email. Furthermore, if you keep a date every week with this column, you will be able to access materials on finance and money-related issues as concerned Christian believers in subsequent articles as directed by the Holy Spirit. Once again, thank you my Christian brother.
================================.
Dear Pastor Fayemiwo,

Great is God, The Almighty Jehovah, we serve through Jesus Christ our Lord!
Ordinarily I do not usually respond to comments/articles from online talk shops like Nigeria world. This article of yours and the first I am reading from your stable is compelling. I am thankful for reading it. It is spirit- filled and illuminating. I concur with all your proclamations in the article. The one that ignited my urge to communicate is the "World Prophecy" part of it. Just to corroborate your prophecy, a little more than 2 years ago, God Jehovah was kind to reveal to me (an unworthy servant) semblance of what you wrote out here. The revelation astounded me and I was very fearful of God. It showed me how catastrophic the incident will be but I was not given where and when this will occur. At the time of the Japanese Tsunami, I thought maybe this was it but then the spirit of the Lord said "No." That was not it. That was not even anything near to what is coming. My brother in the Lord, let us continue to pray for God's mercy towards this oncoming onslaught so that the faithful be spared from the agony of the event, for there is not much we can do to stop Father from acting when He is ready. May the spirit of the Lord not depart from His servants? Henceforth you've got one more reader to your inspirational column. Remain blessed in the Lord… Brother John Adebayo, Atlanta, GA, USA.
Oh, what a letter? I thank you for your encouragement, my brother-in-Christ. Please continue to pray for us too so that the Holy Spirit will continue to use us for His utmost as we engage Satan and his demons in spiritual warfare and use the print and the social media to take the Good News to the farthermost part of the globe. Our Lord Jesus Christ is totally in control and absolutely in charge of world events. He had given us His followers and believers a head up more than two thousand years ago and for us who can read the signs of the times through His Holy Spirit, we are not perturbed at the astonishing prophetic fulfillment on the way. As a matter of fact, He told us when we see all those things He had told us being fulfilled, we should rejoice because our redemption is near. Thank God Almighty!
================================
Hi readers, some fans and readers in Nigeria sent the links below to me on YouTube about me and I think you should watch the video and listen to the messages. Although the messages were in Yoruba Language but the contents were subtitled and I think the messages are relevant to Nigerians at home and abroad. Thanks
http://www.youtube.com/watch?v=pUFbtrbzgZw&feature=youtu.be
https://www.youtube.com/watch?v=27UiGXAJx-Y
*Dr. Fayemiwo, author of the most recent book: "The Kingdom of Satan Exposed" and CEO, Alternative Lifestyle Communication, Chicago will be teaching Biblical Exegeses this fall semester at the Kingdom Bible College and Seminary Tucson, Arizona, USA.
Disclaimer:

"The views/contents expressed in this article are the sole responsibility of

The Christian Walk

and do not necessarily reflect those of The Nigerian Voice. The Nigerian Voice will not be responsible or liable for any inaccurate or incorrect statements contained in this article."
Articles by The Christian Walk