Ex-Taraba Speaker To Suntai's Aide: Retract Bribery Allegation Against Taraba Lawmakers Or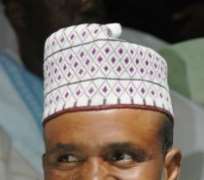 Former Speaker of Taraba state House of Assembly, Hon Isa Ajiya, yesterday called on the Media aide to the ailing Taraba state governor, Mr. Sylvester Yakubu Giwa, to retract the allegation that the Acting governor, Alhaji Garba Umar, bribed the state lawmakers to get his boss' letter rejected or be ready to face court action.
Ajiya said 'The allegation is unfounded and we challenge Giwa to provide proof. If not, we will expose them in a manner we have never done before . We will reveal to the world why this cabal was desperate to rule even when it is clear Governor Suntai is medically unfit to rule the state.
'They were so desperate that they had to write a letter of resumption of the governor by proxy; they were so desperate that they had to drag the Assembly to court by proxy. The case in court against the Assembly was the handiwork of the cabal', he alleged.
He emphaisied that the case in court was not originated by either the governor or the acting governor, stating that 'the cabal, rather than Governor Danbaba Suntai, was in court against the state House of Assembly'
'We want to put it on record that the Acting Governor is not a party to the case and was never involved in bankrolling the lawyers for the Assembly as alleged. It is complete lies and fabrications', the former speaker said.
On allegations that Umar has betrayed his boss, Ajiya said it was rather the cabal being served by Giwa that has betrayed the governor by placing their greed for power over and above the safety and health of the governor.
'The governor was recuperating,his doctors advised him to rest. Yet, he had hardly arrived Jalingo that a letter of resumption was hurriedly forged and sent to the Assembly by the cabal. Who has betrayed Suntai here? Is it the cabal that ignored the governor 's health weaknesses or the acting governor who is preoccupied with complete recovery of his boss?
On Giwa's allegations that the acting governor has refused to negotiate to get the stalemate resolved, the legal practitioner said Umar has shown sufficient willingness to negotiate but that the cabal has blocked all avenues for dialogue for their own selfish interest.
'Long before the governor was brought back, Alhaji Umar has reached out to stakeholders for dialogue but the cabal blocked access to the governor since his return. It is therefore deceitful for Giwa to make such allegation', he said.