Actress Exposes The Depth of Séxual Immorality In Nollywood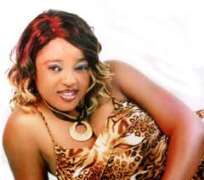 Actress Ejiro Okurame is one of the few ladies who have been around in Nollywood for sometime now but has not been able to break into the so called A-list category. But why? Could it be that she is not getting the kind of juicy scripts others get because of refusal to "play"?
Below is her revelations on the mess of sexual immorality in Nollywood:
What is your view about Lesbianism in the industry?
I think it is demonic. I won't say much about it because a lot of people are involved. The industry needs divine intervention so God can erase such people from the industry. It has eaten deep and it is affecting us.
Were you sexually harassed as an upcoming actress?
I didn't set myself up to be sexually harassed.
Have you been a victim before?
Not really. I think it is when you give room for these things that they occur. I was in Abuja for a particular event when a lady asked me to sit on her laps. I was like, 'what, sit on your laps! For what?' I left and got my own chair.
That's why we need to seek the presence of God. Lesbianism is a sign of the end of time.