PDP crisis is beyond resolution, says APC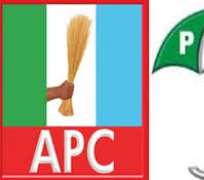 It is a case of rejoicing over the misfortunes of an enemy. The All Progressives Congress (APC) Interim National Publicity Secretary, Alhaji Lai Mohammed, on Friday gloated over the crisis in Peoples Democratic Party, saying that the crisis rocking the Peoples Democratic Party (PDP) is beyond resolution.
The spokesman of the country's most formidable opposition party, while speaking at a town hall meeting in Lagos,  said  the 'PDP has broken into pieces,' to which he received a thunderous 'Amen!' from a large gathering of APC faithfuls.
He spoke during the eighth edition of Town Hall meeting and graduation of the pioneer trainees under the Youth Empowerment and Skills Acquisition Scheme (YESAS) initiated by the Lagos Central Senatorial District Senator, Oluremi Tinubu.
Mohammed described the two events that occurred on July 31st and August 31st this year as a watershed in the history of Nigeria.
According to him the birth of APC which was announced by the Independent National Electoral Commission's (INECs) on  July 31st, and the walk out  by seven governors and other prominent politicians within the PDP  from the party's special convention in Abuja exactly one month after (August 31) and the subsequent announcement of the emergence of the 'New PDP' have changed Nigeria's political history forever.
The August 31 saga, he said, marked the end of PDP's regime in Nigeria because that was the first in the history of the country that seven governors and other party's stalwarts walked out on the president.
The governors are Alhaji Sule Lamido (Jigawa), Alhaji Aliyu Wamakko (Sokoto), Mr. Rabiu Kwankwanso (Kano), Aliyu Babangida (Niger), Abdulfatah Ahmed (Kwara), Murtala Nyako (Adamawa) and Mr. Rotimi Amaechi (Rivers).
Efforts by former President Olusegun Obasanjo; former military Head of State, General Ibrahim Babangida; former Vice-President, Chief Alex Ekwueme; PDP ex-National Chairmen; PDP Board of Trustees Chairman, Chief Anthony Anenih, and other leaders to resolve the crisis have been deadlocked with the Kawu Baraje-led faction threatening to form new party or align with another party if the Bamanga Tukur faction does not yield to their demand.
Muhammed said the 2015 election battle would be determined by votes from the South-West. He insisted that APC is not an opposition party but 'the government in waiting.'
'PDP knows this and they will do everything to destabilise APC in the South-West. Their strategy is to induce voters with money stolen from the Subsidy Reinvestment and Empowerment Programme (SURE-P),' he said.
As he described SURE-P as 'SURE PIT,' Senator Oluremi Tinubu interjected and said it was 'SURE POVERTY.'
Mohammed said that the SURE-P, which came out of Nigerians' rejection of increase in pump price, is nothing but a way of saving money for PDP campaign in 2015.