Allow Me To work, Jonathan Tells Opposition, PDP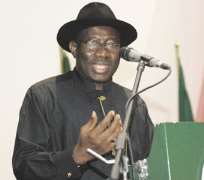 President Goodluck Ebele Jonathan has told opposition members and members of the Peoples Democratic Party, PDP splinter group to allow him concentrate and work for the people of Nigeria.
He noted that the current political impasse are deliberately orchestrated to distract the administration's ongoing transformation agenda in the critical sectors of the economy.
President Jonathan also gave a veiled insight into his second term ambition stressing that the Nigerian Constitution provides a two term of eight only for anyone elected as president.
Nigerian Constitution Mandates Me To Run For Two Terms Says President Jonathan.
Speaking at a lunch with Nigerian Professionals in New York, United States (US), Mr. Jonathan urged those fanning the ember of disintegration in the country to refrain from doing so as the interests of Nigeria is greater than that of any individual.
According to him "already we have a constitution that makes provision for maximum of eight years for anyone who wants to become a president or a governor. There is no president or governor that all citizens vote for but at the end of the election if somebody emerges you must allow the person to work. If you love your country you would want your country to work.
That does not mean that you will not vote against the person if you don't like the way he works but you must allow him to work".
Mr. Jonathan urged the political class in the country to drop the do or die approach to politics urging them to allow him concentrate on his core mandate of governance.
In an apparent reference to the political crisis in the Peoples Democratic Party (PDP) and the tantrum been thrown around by the opposition parties in the country, the president said political leaders in the country must be mindful of what they say or do in order not to undermine the sovereignty of Nigeria.
According to Mr.Jonathan "we appeal to our colleagues politicians that no matter how you feel about the political situation consider the interest of your country first before yourself".
He added "if you are struggling to enter a house you must not put dynamite to destroy the house. By the time you get there there will be no house for you to stay. So first and foremost we must collectively build our country.
Don't bother about who is there now because power is transient, very very temporary".
On whether his administration was doing enough to tackle the issue of corruption in Nigeria, the president said "so many people are saying we are not doing well in fighting corruption and before you say that, there must be a parameter for judging us. What are the yardsticks they are using to judge us?"
Justifying the efforts of his government in addressing the problem of corruption Mr. Jonathan said before the advent of his government, the Federal Government was spending a whopping N25 billion on fertiliser with only a 11 percent reach to the farmers stressing that since the coming on board of his administration, "government now spends between N5-6 Billion on fertiliser and we are getting 80 per cent reach. If we wanted to continue to steal money or look for money for election, we could have continued".
In the area of privatisation of power sector, he said the government conducted the over $3 billion exercise in the most transparent manner.
"Yes we have not yet reached where we want to reach but we are making progress," he said.
Mr. Jonathan told the august gathering that his administration has made significant progress in the area revival of rail transportation, aviation, road construction and other infrastructure.
"The team that I am working with we are doing our best to make sure that our country works".