FEC Set to Declare Yar`adua Unfit to rule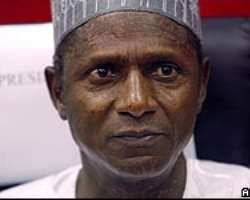 Information made available to huhuonline.com reveals that baring any last minutes changes, the process to end Yar`adua `s presidency may begin tomorrow, when the federal executive council convene for its weekly meeting.Knowledgable presidency
sources told that many of the ministers are sympathetic to Yar'Adua's plight, but are fed up with antics of Yar`adua insiders, who deliberately kept them in the dark for three months, therefore subjecting them to public ridicule. Consequently, they have agreed to invoke section 144 and declare Umaru Yar`adua incapacitated, in order to end the show of shame.
Unfortunately, due no of fault of the ailing Umaru Yar'Adua, his health saga has become the case of the "Boy Who Cried Wolf". Huhuonline.com learnt that even when his Kitchen cabinet told the truth about his health status, they were not believed. The liar will lie once, twice, and then perish when he tells the truth, a source added.
Against this backdrop, a minister who elected anonymity confided in huhuonline.com that they received a copy of President Yar`adua`s medical record last week, but swept it under the carpet beause they were not sure of its authenticity. The report, signed by the Chief Physician to the President, Dr. Salisu A.B. Banye, reads:
"This is to inform His Excellency that the President has been receiving treatment for his pericarditis with a remarkable improvement since our arrival in Jeddah on 23rd November, 2009."
"He has however been confirmed by a team of medical specialists to have developed episodes of chest infections that necessitated his isolation and intensive therapy."
"He is now recuperating and will be discharged from the hospital as soon as advised by the medical team. He has specifically instructed me to convey his gratitude and best wishes to you and the entire people of Nigeria."
Since President Yar`dua was brought back under the cloud of darkness, last Wednesday, there have been anxiety over whether the FEC will still ask the Senate to raise a Medical Panel on Yar'Adua's health - in line with Section 144 – or not.
Section 144 reads: "The President or Vice-President shall cease to hold office, if (a) by a resolution passed by two-thirds majority of all the members of the Executive Council of the Federation it is declared that the President or Vice-President is incapable of discharging the functions of his office; and
(b) the declaration is verified, after such medical examination as may be necessary by a medical panel established under subsection (4) of this section in its report to the President of the Senate and the Speaker of the House of Representatives."
Huhuonline.com checks reveal that some ministers opposed to Yar`dua, led by a G-10 caucus in the cabinet, plan to push for Section 144 at tomorrow`s meeting.
To this end, some of the ministers met at Radio House in the office of the Minister of Information and Communications, Prof. Dora Akunyili, at about noon yesterday on the plan. Recall that two weeks ago Prof. Akinyuli had asked that President Yar`dua transmit vacation letter to the national assembly.