Misery in Anambra state As Fire Razes a-Woman's Head to ashes
Her neck, body, Entire room Untouched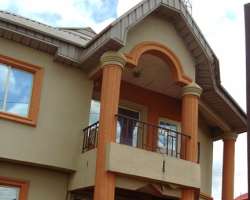 Pix of the family house where the woman was burnt
Hell was let loosed yesterday at Obodoezi Umukwa, Awka, Awka-South local government area Anambra state when an inferno from unknown source razed the head of a-90 Old woman to death while she was asleep at her home even as it left the mattress on which she lay on, the room and the entire house untouched.
Our reporter reliable gathered that the victim simply identified as "Nwunye Ononenyi" of Obuagbaka family met her untimely death as a result of fire that gutted her head to dust at about 10a.m on Wednesday 11th September as her house helper left to school.
According to eye witnesses "When I saw smokes zooming out of Nwunye Ononenyi's window, I quickly rushed to her compound in the company of others. We knocked and knocked at her door beckoning "mama" but to no avail until we finally broke into the room and saw her lifeless body; head burnt but neck, mattress and the entire remains intact".
"The scene was so terrifying. I nearly fainted because it was first of its kind for me to see a person whose head was burnt while her entire body and the neck including the room and her belongings were untouched. We were so amazed because there was no indication or direction showing the source or causes of the flame", she echoed.
However, when our reporter called to Umukwa village to ascertain authenticity of the incident, the village leader refused to comment but neighbours who spoke under the condition of anonymity confirmed the incident and showed him (our reporter) to Obiagbaka's family house for further interrogation.
As a result of this, this reporter stormed the compound but all efforts to speak with the deceased son proved abortive therein as he was said to be a policeman posted to undisclosed station within the state.
In this same vein, one of the victim's daughters met amidst sympathizers directed the reporter to repeat his visit which he did thrice to no avail.
Similarly, sources within the family disclosed that Nwunye Ononenyi's corpse has been deposited to one of the famous morgue in Awka at direction of her son who also charged the community to keep report of situations surrounding her mum's death behind the shadow.
"He even directed the cameraman who snapped his mum's corpse to quickly delete it vowing to deal with him if he ever discover or found it used in media" the sources divulged.