Anambra Governorship Election, A Must Win For APGA – Obi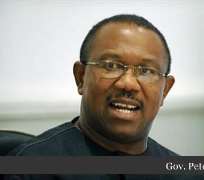 Gov. Peter Obi of Anambra has said that the Nov. 16 Governorship election in the state is a must win for the All Progressive Grand Alliance (APGA).
The governor stated this on Tuesday at the Anambra North Senatorial zonal meeting of the party in Onitsha,
Obi said that the party needed continuation of its good governance in the state, which would continue to better the future of children.
"APGA as a party had remained faithful to its promise of development. Our works for the past eight years speak volumes of our love for Ndi Anambra.
"We want the progress to continue even now that we have somebody from your zone, Chief Willie Obiano, to continue and this election is a must win for Ndi Anambra through APGA,'' he said.
The News Agency of Nigeria (NAN) reports that a sum of N7, 000 and a branded party logo wrapper were distributed to each of its ward executive members in the zone.
The National Chairman of the party, Chief Victor Umeh, lauded APGA supporters for remaining with the party despite the political lobby and manoeuvring.
"Our government has done very well in the past eight years and our wonderful work had already transformed Anambra to the admiration of all.
"You should tell our opponents all we have done and how we have restored the confidence of people of the state to governance.
"We expect that you deliver 100 per cent vote of the zone to APGA, since it is your brother, our brother, who is our candidate, Chief Obiano, in this election,'' Umeh said.
Chief Willie Obiano, APGA flag-bearer for the 2013 Governorship Election, urged the supporters not to allow a single vote to drop in the forthcoming election.
"We should be focused, stand with brotherly love to re-elect APGA once more for the benefit of Anambra and our children,'' Obiano said.
NAN reports that Anambra North Senatorial zone comprises seven council areas, which are: Anambra East, Anambra West, Ayemalum, Ogbaru, Onitsha North, Onitsha South and Oyi. (NAN)