We Got N9m From One Operation -Kidnappers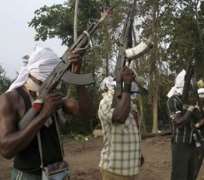 Members of a 10-man suspected kidnap gang have allegedly confessed about how they got about N9 million as ransom from a single operation.
The operation involved the kidnap of a Chinese citizen earlier this year in Ikoyi area of Lagos, southwest Nigeria.
The suspects who have been arrested by the police and are facing trial include their leader Aduloju Taiwo, 33, Jimoh Olalere, 40, Akan Ufot, 30, Chigozie Ide, 30, Sunday Michael, 28, Rotimi Jegede, 25, Adesiyan Mutiu, 28, and Ope Dada, 25.
According to police sources, the suspects in January kidnapped an expatriate, Mr. Kuang Vingjin, who works with ZTE Nigeria Limited in Ikoyi, Lagos and received the sum of N8.5 million as ransom before he was released to the company.
The gang also allegedly kidnapped Mr. Ilogbonu Kingsley and took N.5 million as ransom before his release.
The victims were unlawfully detained in uncompleted buildings at Ibeju-Lekki and Imokun area of Epe.
The suspected gang leader, Aduloju Taiwo, a cab driver, allegedly masterminded the kidnap of Vingjin from his residence in Osborne Estate, Ikoyi.
Taiwo told P.M.NEWS that he studied the estate's routes while plying the road as a cab driver.
'While I was working as a cab driver, I took my time in studying the whole place. I also studied the security operatives operating in the estate which made it easier to gain entrance because the security men do not check people coming into the estate,.
'In the operation involving the Chinese, I got N1.2 million out of the millions we coolected as ransom and just N30,000 for the Nigerian operation (the abduction of Kingsley). I was arrested by the police from Elemoro Divisional Headquarters, Ajah, in June before being transferred to Lagos Police Command Special Anti-Robbery Squad, Ikeja.'
According to the police, a related case involving Olayinka Jagbojagbo and Kabiru Jagbojagbo, two brothers who are herbalists that consulted for the suspects, has also been instituted at Ikeja Magistrate's Court 2.
The two brothers are facing a one-count charge of conniving with the other suspects in kidnapping Vingjin and Kingsley.
Investigation by SARS led to the recovery of arms and 18 live cartridges from them.
When their case came up yesterday at the Ikeja Magistrate's Court 8 presided over by O. Sule Amzat (Mrs), all the accused pleaded not guilty.
Amzat ordered that the suspects be remanded in prison custody pending the advice from the Directorate of Public Prosecution.
The case was adjourned till 30 October, 2013 for hearing.