DILLISH MEETS FATHER FOR THE FIRST TIME.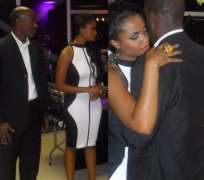 Dilish, The winner of the Big Brother, The Chase, held her birthday party last night and it had in attendance her long seperated Somalia father, Abdi Guyi.
She posted the picture of her and the father on Facebook with the following writeups:
Forget the past Accepts your mistake Cry and move on Thank God Smile always.
A sort of advice to many who find it hard to forgive and reunite with loved ones who've offended them. Nice one Dillish.
>

© 2013 Nollywoodgists.com
Click the link below to go to...
Dillish' Father Appears From Nowhere After She Won BBA's $300,000
Dillish Wins BBA The Chase $300,000 Prize
Melvin and Beverly Osu Evicted From Big Brother The Chase #BBATHECHASE
BBA Host, IK Osakioduwa's Wife Blasts Beverly Osu Over Comments On Hubby
Who Will Win BBA The Chase? Vote Now!
AfroCandy Insulted Me With Her Statement- Uche Ogbodo
Afrocandy To Cast Uche Obodo, Cossy Orjiakor, Anita Joseph In An immoral Movie
DNA Test Revealed That Am Not The Biological Father Of Her Second Daughter, Afrocandy's Ex-Husband Revealed
Igbo Actress, Uche Obodo, Craves For Attention, Wishes To Act Unclad