How To Become A Nigerian Chief Executive Officer (CEO)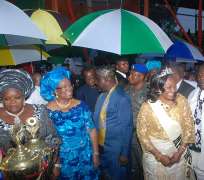 There seems to be an emergence of a particular class in Nigeria-the class of young chief executive officers (CEOs). Interestingly the rise of this class is implicit in the high rate of unemployment in the country. Every unemployed person now takes the tag of an entrepreneur or a CEO.
If you are tired of sitting at home waiting for jobs, and if you want to join the influential club of Nigerian CEOs here is what you must know.
Basically, about registration of your business. Does it matter? How many unemployment induced Nigerian CEOs have registered businesses? What you should be worried about is a "killer" business name. This is a very important aspect you have to consider as it will determine if you are a CEO that is twenty-first century Nigeria "Alingo"compliant or a CEO that is antediluvian and in the era of "Arumbar Stylee" of Ras Kimono. In choosing your business name, you have to Americanize, Europeanize or spiritualize the name. That is it! It is a criterion you must not forget if you are serious about joining the venerable club of Nigerian CEOs.
You should choose a business name like GarryPowell Limited, DivineDove Consultants Limited, Christ the King Services Limited or my personal favourite Winstonkleen General Business Services Limited. If you are the ambitious type you can add "group of companies" to it. It does not matter if you have just your laptop or Blackberry phone as your own office. After all, who cares? It is all about "packaging", that is the Nigerian way.
After you have done that, you must now focus on your appearance. Yes, how you look matters in becoming a Nigerian CEO. If you do not have money, you have to borrow, that is if you are serious about making it to the list of Nigerian CEOs. You have to buy at least three different types of suits, a pair of shoes, a set of ties and shirts for a start, and wear them every day even at night so that people will take you seriously when you tell them you are a CEO. You must look the part.
After you have taken care of your looks, you can then go on to get good business cards for yourself. Your business cards must be posh. You have to make them so. This will determine if you are a hungry and struggling CEO or not. And it is not good for your image and business if you are thought to be poor or struggling. Also, you may wish to make your business cards generic, that is without an indication of a specific busness line. This is to give room for every business opportunity that comes. As a matter of importance, look for the best printer in town and ensure your business cards are printed of high quality material. Remember your business cards introduce you, so when you are in the midst of important persons you flash them for all to know you are a sophisticated Nigerian CEO. You must try to keep up with the Joneses.
Again, after you have settled the issues of your business name, your looks and your business card, you can now glide into the cloistered world of Nigerian CEOs. That is just it! It is as simple as that!
To meet people that matter who will help your hustle, you have to visit "happening" clubs, attend conferences, seminars and meetings. It is at these places that you introduce yourself as a young Nigerian CEO and give your business cards to the important people you meet. They will certainly be taken in by the posh name of your flaoting company. If anyone gets inquisitive and tries to know what you really do. Tell him you are into general business like providing cleaning services, hiring drivers, recruiting marketers and doing other miscellaneous jobs for companies. That is the trend. General business!
You must recognise that becoming a Nigerian CEO takes just you, your laptop or Blackberry phone and your business name. It does not matter if you have a business idea or not. You are a general consultant, you handle every business.
As you go about your business seeking avenues for "breakthroughs" remember to make some donations to your pastor in the hustling ring for prayers of open doors, most especially for your "CEOship" to not be just in name, but in material acquisition. In fact, he may give you free publicity at church as a young CEO, and you know what that means. It means more babes and all. Babes like CEOs. So do the needful, who knows one day your hustle go pay.
Fredrick Nwabufo is a writer and a poet. Email:[email protected] 08167992075
Disclaimer:

"The views/contents expressed in this article are the sole responsibility of

Fredrick Nwabufo

and do not necessarily reflect those of The Nigerian Voice. The Nigerian Voice will not be responsible or liable for any inaccurate or incorrect statements contained in this article."