Kalu Picks Cameroun For Eagles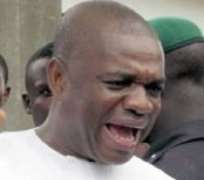 Payback time is here for Cameroun's Indomitable Lions as former Abia state governor Dr.Orji Uzor Kalu fervently prays they confront the Eagles in the decisive Brazil 2014 qualifier.
Kalu said,"bring on Cameroun.Time for pound of flesh.These new Eagles are Giant Killers.They have what it takes to nail teams that tormented Nigeria in the past.And if there is one foe that must be vanquished for good,i pick Cameroun."
Three times the Lions won the Nations Cup ahead of Nigeria.The ex-governor does not quite agree with that."Yes, they won in 1984.But in 1988,Mauritanian referee Idrissa Sarr dashed them the Cup when he dubiously cancelled Henry Nwosu's goal and gifted Roger Milla a penalty kick.Then in 2000, the Tunisian referee punished Nigeria for beating his country in the first round,'Kalu added.
He explained that Cameroun's dominance began with the Stephen Keshi era,and must now come to an end with Keshi as Chief coach.
"In the days of Christian Chukwu and Segun Odegbami Camerounians worshipped us.Shooting Stars won the 1976 Winners Cup in Yaounde.Rangers repeated the feat in 1977.Milla for Tonnere Kalara and the trio of Thomas Nkono,Paul Akono and Jean Manga Oungene of Canon Sportif could do nothing,"Kalu pointed out.
"The Captain Keshi of 1984,the Big Boss of 1988 and Assistant coach of 2000,is a far cry from today's 'Killer' Keshi.And these new Eagles feel our pains.While we mourned Sam Okwaraji in 1989, Cameroun sent Nigeria out of the Italia'90 qualifiers.I pray the God of soccer sends them our way now so that we laugh best," Kalu summed up.
Signed
Emeka Obasi
Special Adviser[Media] to
Dr.Orji Kalu.