THRILLS AS NB PRESENTS 10 CELEBRITIES FOR GULDER ULTIMATE SEARCH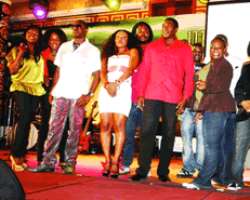 Thrills as NB presents 10 celebrities for Gulder Ultimate Search
By NETA NWOSU
Wednesday, March 3, 2010
L-R: Funke Akindele, Chioma Akpota, Emeka Ike, Muma Gee, Daddy Showkey, Bob Manuel, Obesere, Princess, Dare Art Alade and Weird MC.
10 brave celebrities will begin their ultimate adventure in the jungle.
Come and celebrate their last nite of comfort and luxury before the search begins.
Who will shine?
Who will fail?
The jungle will decide.'
What you've just read is an excerpt from the invitation cards to the unveiling of the ten celebrities penciled for the Gulder Ultimate Search (GUS) Celebrity Showdown which took place in an epoch-making event last Friday at the Lagos Oriental Hotel on the eve of their departure for the jungle the next day.
On Wednesday, February 24, 2010, Nigerian Breweries Plc. announced another version of its seven-year old GUS, acronym for Gulder Ultimate Search. The new variant labeled GUS Celebrity Showdown is strictly GUS in all ramifications, nothing but GUS. The obvious disparity is that the participants and host have been sieved from the crop of celebrities.
In 2004, the Gulder team introduced a reality TV programme, named 'Gulder Ultimate Search', a platform designed to drive the brand's value of confidence, intellect, strength, focus, courage, determination and success. Every year since then, daring youths; boys and girls go into the jungle in search of the hidden treasure. After several days of sojourning, the contestant that unveils the concealed treasure emerges the winner of that particular edition.
So far six editions of GUS have been held in this same manner but at different locations, with new contestants featuring each year. Preparations are on top gear for the seventh edition slated for later this year. But this time around with a fore appendage – GUS Celebrity Showdown is expected to give new lease of life to the act.
Nigerian Breweries has decided to revitalize the gradually aging TV reality show in a refreshingly distinct manner. Celebrities are loved and adored by their fans. GUS Celebrity Showdown has been designed to capitalise on these feelings to sway the diverse fans of these 10 celebrities to the Gulder Ultimate Search reality show and the brand in turn.
Speaking at a media briefing, the company's Corporate Affairs Adviser, Mr. Yusuf Ageni, said that the Gulder Search has been very successful in reinforcing the Gulder brand as a beer for successful men and women while it continues to enjoy wide viewership and followership. According to him, the search for the Ultimate Man or Woman which comes up later in the year is usually challenging as contestants are taken through an exciting search for a treasure hidden in a very challenging terrain. 'A terrain that is characterized by wildlife existing alongside breath taking scenery', he emphasized.
Ageni said: 'If the Gulder Ultimate Search has been challenging and exciting, then imagine your favourite celebrity in the Gulder Ultimate Search. Which celebrity would you like to see in the search? Which celebrity will dare to step into the tough terrain of the deepest jungle in Nigeria?'
The 10 chosen celebrities were uncovered three days after and have since progressed to the jungle situated in La Campagne Tropicana in Lekki suburb of Lagos.
Princess (comedian), Emeka Ike (Actor), Funke Akindele (Actress), Daddy Showkey (musician), Chioma Akpota (Actress) Obesere (musician), Weird MC, (musician), Dare Art Alade (musician), Muma Gee (Musician) and Bob Manuel Udokwu (actor) constitute a clique of a great delight. Their nite out at the unveiling ceremony was indeed a testimony of the tenacious grip that celebrities have on people. The Oriental hall suddenly got enlivened as the celebrities came on stage in turns and guests reeled with laughter as Banky W took the Celebrity Showdown exponents on their personal capabilities and expectations in the jungle.
This sprung up funny assorted claims of strengths and supremacy in the jungle. Daddy Showkey started it all when he asserted to himself the authority as the king of the jungle. His words, 'Ordinarily, I'm a jungle man from Ajegunle jungle. I'm going to my usual terrain.' Bob Manuel Udokwu felt undermined. He wrestled the microphone from Banky W and challenged Showkey but not before posing these questions to the audience; 'Who has lived in Enugu amongst you? Do you know Coal Camp? Is Ajegunle comparable to Coal Camp? The audience responded with a thunderous 'No'. Both those who have lived in Enugu or are still living there and those who have never seen the four walls of the Coal City chorused 'No'. Exciting, isn't it? Beating his chest with his left hand, Bob Manuel bragged to the admiration of the audience as he spoke firmly into the microphone, 'Ajegunle is incomparable to Coal Camp in Enugu'. Obesere has never lived in the jungle and he is not bothered.
To the amazement of all he pledged he will emerge the winner of GUS Celebrity Showdown. 'I will never disappoint my fans. Moreso, I'm the Chairman of Fuji Musicians association of Nigeria. I will not disappoint the Fuji musicians. I will be the winner', Obesere vowed. Chioma Chukwuka solemnly said she will cry if she is not allowed to win. Princess has put her trust in her richly endowed body. 'Displaying her big boobies and bum she said 'I have natural airbags to wade through the challenges of the jungle'.
The Marketing Director, Nigerian Breweries Plc., Mr. Jacco Van der Linden stated that the GUS Celebrity Showdown will be filled with more fun, intrigues and laughter as he reminds that Gulder just clocked 40 years.