Accugas Wins African Quality Service Award For Gas Processing & Transportation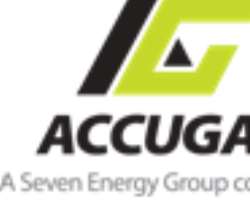 Lagos (Nigeria) September 3, 2013 : Seven Energy International Limited ("Seven Energy"), the oil and gas exploration, development and production company with interests in Nigeria, and its wholly owned subsidiary, Accugas Limited ("Accugas or the Company") are proud to announce that Accugas has won the 2013 African Quality Service Award for Gas Processing and Transportation. The award was presented by the Institute for Government Research & Leadership Technology (the "Institute") during its 2013 African Governance and Corporate Leadership Awards in Abuja.
Ambassador Moses Essien, Chief Executive of the Institute, commended Accugas for its contribution to gas processing services in Nigeria. The key performance indicators used to select the winner include: excellence in gas processing and transportation services; safety, health and environment considerations; brand integrity; and customer service delivery. Further indicators are: product and service track record and value creation; corporate performance and operational excellence; compliance with local content policy and development; and compliance with professional codes, ethical standards and regulatory laws and guidelines.
Phillip Ihenacho, Chief Executive Officer, Seven Energy commented: "We would like to thank the Institute for this prestigious award. It is a fantastic recognition for the on-going efforts and achievements of Accugas and Seven Energy in contributing to the development of the Nigerian gas market in a responsible way."
Stephen Tierney, Managing Director, Accugas Limited, added: "Accugas is committed to aiding in the development of Nigeria's gas resource, improving power supply and supporting local economic growth. Through the processing and distribution infrastructure Accugas is constructing, we are capable of providing a long-term supply of gas for power generation and lower cost of fuel for local industries. This will create an attractive environment for investment for gas-based enterprises in Nigeria, particularly the Niger Delta."
Accugas currently has two long-term take-or-pay gas sales agreements in place to sell over 1 Tcf of gas, to Ibom Power station and Calabar NIPP power station. The Company remains on course to complete the development of necessary infrastructure to deliver the gas to both power stations. The first 100MMcfpd train of the two train 200MMcfpd gas processing plant at Uquo, and the 62km 18-inch Uquo to Ikot Abasi pipeline, were commissioned in the first quarter of 2013, to deliver gas to the 190 MW Ibom Power station. An additional 37 km 24-inch pipeline from Uquo to Oron is under construction to supply gas to the 560 MW Calabar NIPP power station'.
For further enquiries, please contact:
Seven Energy International Limited
Joe Kaye, Head of Investor Relations +44 20 7518 3850
Patricia Akinlotan, Corporate Affairs +234 815 0646 493
Brunswick Group +44 20 7404 5959
Patrick Handley
Elizabeth Adams
Emma Walsh
Caritas Communications +234 803 799 7355
Okwudili Onyia
Seven Energy International Limited is an independent Nigerian oil and gas exploration, development and production company founded in 2004. With the backing of strategic long-¬term investors and offices in Lagos and London, the group has a unique focus on the emerging Nigerian domestic gas market. Seven Energy has joint venture interests in the Uquo and Stubb Creek fields, onshore in the Niger Delta, and a participating interest in OMLs 4, 38 & 41 through a service contract with Nigerian Petroleum Development Company.
For more information on Seven Energy please visit: www.sevenenergy.com
Accugas Limited is a wholly owned subsidiary of Seven Energy, the indigenous Nigerian oil and gas exploration, development and production company. Accugas is a gas processing, marketing and distribution company focussed on commercialisation, for the domestic Nigerian markets, of the substantial discovered but undeveloped gas resources onshore in the Niger Delta. Accugas currently has long term gas sales contracts in place to supply over 1 Tcf of gas for power generation in the south-east Niger Delta.
For more information on Accugas, please visit: www.accugas-nigeria.com