PDP Crisis: Jonathan, Obasanjo Meet in Aso Rock

Less than 24 hours after a tumultuous People Democratic Party, PDP convention which saw the ruling party bruised with a splinter group, former President Olusegun Obasanjo was at the State House Chapel, Aso Rock, shooting down insinuations that the former President is at loggerhead with president Goodluck Jonathan over outcome of the party's convention.
Soon after the PDP convention, media reports suggested that former President Obasanjo did not attend the convention because he is unhappy with President Jonathan. Other section of the media said the former President walked out of the convention.
But former President Obasanjo was in Aso Rock on Sunday and even attended a church service at the Chapel.
However, sources told Pointblanknews.com that former President Obasanjo and President Jonathan had prior to the church service met on how best to deal with the PDP situation. Both leaders will have another meeting within the week to have a joint position on how to handle the issue relating with the Atiku faction of the PDP, a source said.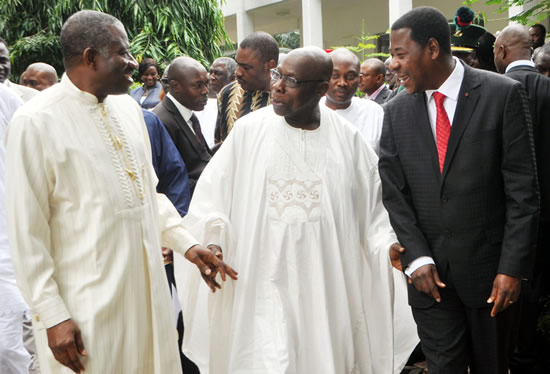 "They met before church and they briefly shared ideas on what happened at the convention. They would meet again to harmonize and deal with the situation. I think baba has an idea of what Atiku is trying to do," a source told Pointblanknews.com.
The source who would not want to be named dismissed the insinuation that former President Obasanjo and President Jonathan are at loggerhead.
"We all know Baba, if he is angry with you, he would avoid you. Baba would not come to the villa if he is angry with Mr. President. All those media reports and insinuations are rumors and you know some section of the media know how to manufacture facts to sooth their owners," the source said.
According to the source, Baba has seen all that happened at the Eagle Square, he understands it and he knows all the major players and the architects and in due time before the end of the week, they would handle it, just wait and see."
President Boni Yayi of Benin Republic was also in Abuja to meet with President Jonathan in bilateral issues.