Saudi Foreign Minister urges Arabs to back Syria opposition on strikes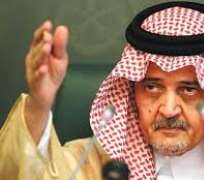 Saudi Foreign Minister Saud al-Faisal on Sunday urged Arab countries to back calls by the Syrian opposition for strikes on the Damascus regime, ahead of an Arab League meeting on Syria. Arab states must echo demands by the 'legitimate' representatives of the Syrian people for 'help from the international community to put an end to the bloodbath' in Syria, he said, referring to the opposition.
The Saudi foreign minister did not explicitly mention a call by US President Barack Obama to launch punitive strikes on Syria for allegedly unleashing chemical weapons on its citizens last month, which according to Washington includes Sarin gas and killed hundreds.
But he told a news conference in Cairo that the international community must stop 'the aggression against the Syrian people before these people perish'.
Syria's main opposition bloc said Sunday it was disappointed with Obama's decision to seek approval from Congress for action against the regime, but said it believed lawmakers would approve a strike.
'We had a feeling of disappointment. We were expecting things to be quicker, that a strike would be imminent,' said Samir Nashar, a top official at the Syrian National Coalition.
'But we believe Congress will approve a strike,' he added, a day after Obama made the shock announcement that he will seek congressional approval for military intervention in Syria.
Arab League foreign ministers were to meet at the body's Cairo headquarters later Sunday, after deciding to bring forward talks that had been initially slated for Tuesday.
The Saudi foreign minister urged his counterparts in the pan-Arab body to back the Syrian opposition beyond condemnations of regime atrocities.
'Condemnations are not enough,' he said.
A meeting of permanent representatives of the Arab League last Tuesday accused President Bashar al-Assad's forces of unleashing a chemical attack in Damascus suburbs on August 21.
They also condemned the 'horrible crime carried out with internationally prohibited chemical weapons' and put the 'entire responsibility' on Assad's regime.
Saudi Arabia is a major backer of Syrian rebels who have been fighting to oust Assad since a brutal crackdown on Arab Spring protests in 2011.
Saudi officials have in the past few days made repeated called for decisive action against Syria. AFP