PDP Seeks Consensus Ahead National Convention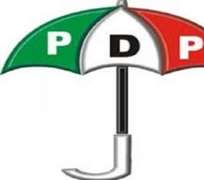 Secondus emerges deputy national chairman
Top leaders of the ruling Peoples Democratic Party (PDP) were today locked in a chains of meetings to streamline a consensus list less than 12 hours into a special national convention.
The last of the meetings held this night at the Presidential Villa, Abuja.
Governors elected on the platform of party, trustees, its bigwigs and top leaders kept vigil to streamline the list for aspirants.
Pointblanknews.com gathered that the party leaders settled for a former national organising secretary of the party, Prince Uche Secondus as consensus candidate for the position of deputy national chairman.
Apart from support from President Goodluck Jonathan, Secondus, a former chairman of the party in Rivers State, it was gathered, bagged the support of governors from his south-south and south-east zones.
PDP leaders, Pointblanknews.com further gathered, were particularly worried about how to streamline the. over 80 aspirants vying for 14 vacant positions.
The south-east zone, which was zoned the  positions of national woman leader and national publicity secretary (NPS), appeared in a deadlock as the governors battled to streamline the about two dozen aspirants.
The duo of Olisa Metuh and Mrs Kema Chikwe, immediate past NPS and woman leader respectively, are battling to stage a comeback.
However, the other aspirants were reportedly opposed to the idea of consensus candidacy, and have vowed to slug it out at Eagle Square, venue of the special convention.
Top party sources claimed that the odds favoured Metuh and Chikwe, the opposition notwithstanding.
The north west is said to be another problem zone. Alhaji Bala Gwandu is slugging it out with Buhari Bala. Even though Gwandu has reportedly been endorsed by Kebbi State and the zone, Bala, according to sources, is still unrelenting.
Bala, a former minister and adviser to several party chairmen, had attempted to use a court to stop Gwandu's candidacy. The move had reportedly upset the zone's political leaders.
Aside the position of national secretary, officers for the remaining party are expected to emerge on Saturday.