Keystone Bank Declares N2.8b Profit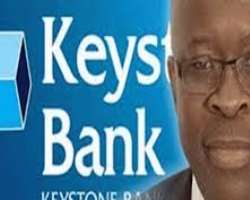 From a loss of N7.9billion in five months ended 31 December 2011, Keystone Bank Limited has posted a Profit-Before-Tax of N2.8billion for the year ended December 31, 2012.
In the same breadth, Total Comprehensive Income of the Bank rose by 157 per cent, from a loss of N13.79billion to N7.81 billion, while customers' deposits leapt from N282.75billion to N297.54billion during the review period.
Similarly, gross earnings rose by 105 per cent, from N23.9 billion to N49billion, while total assets grew by 7 per cent, from N361.48 billion to N388.23 billion.
Speaking on the bank's performance, the Managing Director of the bank, Mr. Philip Ikeazor said the plan to grow Keystone Bank from August 2011 was based on three primary elements. 'The first was to ensure a robust IT and E-Banking platform is in place and upgraded for prime efficiency. The second was to focus our customer service. The third is to return the bank to profitability and grow market share.'
The Keystone Bank boss also stated that the bank will continue to harness the skills of its human capital and cutting edge banking technology to provide premium banking services to corporate and retail customers.