DEMPSEY AND MAKEPEACE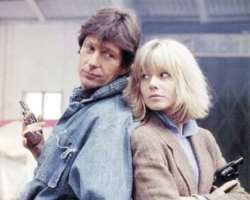 nerPostTitle">DEMPSEY AND MAKEPEACE Written by furtune Arts http://www.nigerianbestforum.com/blog/?author=25 http://www.nigerianbestforum.com/blog/?cat=437 Mar 2, 2010
Dempsey and Makepeace
By Abidemi Dairo
March 2, 2010 03:02AM
http://www.nigerianbestforum.com/blog/wp-content/uploads/2010/03/dt.common.streams.StreamServer51.jpeg Lean on me, I've got your back.
One of the delights on television in the late 80s was the hour long detective series Dempsey and Makepeace. It aired on British channel ITV, between 1984 and 1986 but it wasn't until the late 80s and early 90s that it began to run on Nigerian television. Getting the attention of both young and old alike, it aired immediately after the Network News. The series featured two detectives from different backgrounds battling crime within the London metropolis; exposing, arresting and sometimes killing (in self defence though) evil orchestrators.
Good Cop, Bad Cop
This drama serial, cast Michael Brandon as the rugged and street-wise James Dempsey from New York and Glynis Barber as the elegant and classy Harriet Makepeace. Dempsey was a New-York police officer whose life became threatened after he exposed corruption within the NYPD. For his protection, he was sent on a kind of exchange program to a specialised unit, SI 10, of the London Metropolitan Police where he was partnered with Makepeace, the daughter of a London Socialite. The two proved to be a winning pair, always having different views on how to approach a case, with Dempsey quick to action and believing greatly in his instincts, while Makepeace was a strong believer in planning. Their different views, and of course backgrounds, stirred up a form of rivalry which would later develop into mutual respect and trust.
The kicks
Looking back, notes have to be made that not much brainpower was actually exhibited during investigation, definitely not of the Sherlock Holmes mould. However, the action sequences, mostly featuring Dempsey kicking butt, was enough to keep viewers loyal to the series. Cases were solved mostly on tip offs, bursting on the scenes of crimes or witness debriefing, making it easy to watch and comprehend. The chemistry exhibited between the heroic pair, as well as the always obvious physical attraction between them always kept fans in suspense - 'They'll kiss in the next episode,' many devotees probably convinced themselves back then. Both, however, later got married in November 1989, three years after completion of the third and concluding season of the cop drama series.
All three seasons of the series were released on DVD in the United Kingdom in 2006 so diehard enthusiasts can now relish the duo's stand against crime once again.