Ghana Will Not Fail; There Will Be No War - TB Joshua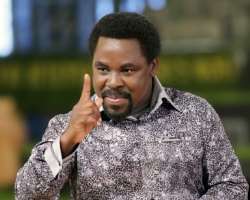 Nigerian Prophet T.B Joshua has once again delivered another prophecy on events happening in Ghana, assuring Ghanaians and the world that Ghana will remain peaceful after the Supreme Court ruling on the election petition on Thursday August 29.
He says Ghana, noted for its respect for the rule of law and very rich democracy, will demonstrate once more to the world that it has strong institutions and will move on democratically after the court delivers its judgment on Thursday.
T.B Joshua who was delivering a sermon on Sunday at his Synagogue church in Nigeria said he has received many calls from people saying they are alarmed and would want to travel out of the country for fear of chaos after the court rules on the election petition verdict.
He said: 'Ghanaians are people who set laws and obey their laws, nothing will happen, it will continue to remain peaceful; they will maintain their profile as a democratically peaceful country...sleep and close your eyes, Ghana will not fail'.
The 2012 presidential candidate of the New Patriotic Party (NPP), Nana Akufo-Addo; his running mate, Dr Mahamudu Bawumia, and party Chairman, Jake Otanka Obetsebi-Lamptey, are challenging the Electoral Commission's (EC's) declaration of President Mahama as the winner of the 2012 presidential election.
After 48 days of legal debates, the Supreme Court is due to deliver a judgment on Thursday August 29.