Okagbare Better Than Eagles—Kalu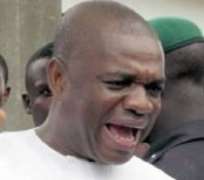 Former Abia state governor Dr.Orji Uzor Kalu has threatened to embark on a One -Man protest match to the Presidency unless medals winning Blessing Okagbare got rewarded as much as African champions Super Eagles.
Said Kalu,"i feel for Okagbare.Never in our history did anyone single handedly win all the country's medals in a senior global competition.Okagbare achieved that in Moscow,yet nobody is planning a Presidential reception for this great athlete."
Speaking further,the ex-governor explained that the Eagles got a good deal after their Nations Cup glory,a far cry from two World Championships medals by an individual.
"Without taking away anything from our beloved Eagles,i do not think they are World class.They never won an Olympic medal,never played in the quarter-finals of the World Cup,nor in the Semis of the Confederations Cup.Okagbare is on higher ground,having won Olympic bronze in 2008,and now silver and gold.She is more than an African champion and should be rewarded for her feat even if she did not win gold,"he added.
On the protest march,Kalu said,"i will march to the First Lady's office first.I know this government is gender sensitive.In 1996,Tongan super heavyweight boxer Paea Wolfgramm,the man who beat Duncan Dokiwari in the Atlanta'96 semis and loser to Vladmir Klichko in the final due to injury, caused King Taufa'ahou to announce public holidays in his honour.Now,if a country of about 110,000 people could do that for a silver winner,why would our own country of 170 million sports lovers fail to honour this one-woman riot squad?"
Kalu reminded compatriots that the last time Nigeria went for a big competition in Moscow,nothing came out of it."Yes,the Moscow '80 Olympics ended in disaster.Our best was seventh position in the men's 4x100 relay.The quartet of Hammeed Adio,Kayode Elegbede,Samson Oyeledun and Peter Okodogbe made the final.Remember, the Americans,the Brits and West Germans were absent.This year,they all came and Blessing helped us with two medals.Please give it to her".
Signed
Emeka Obasi
Special Adviser,Media
to Dr.Orji Kalu.