2015: Don't Run political parties like garrison command, Jega tells political party leader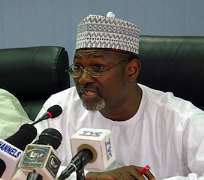 Chairman of the Independent National Electoral Commission (INEC), Prof. Attahiru Jega, yesterday reflected on the political landscape in the country and lambasted political parties leaders for overseeing their parties like a military arrangement.
A miffed, Jega further accused politicians of buying drugs and arming youths in the country in there desperate bid to win elections just as he upbraided them for engaging in name calling instead of campaigning on issues.
Jega, who stated this at a confidence building workshop with women and youths of political parties in Abuja, swore that the electoral commission would monitor the expenditure of candidates in political campaign, to ascertain whether it conforms with the provisions of the law.
Lambasting political leaders in the country Jega said "Lack of internal democracy is a major problem. In fact it is probably one area that has more negative damaging consequence for our democracy because I see a situation in which candidates would campaign in a party somebody will win, INEC will observe and see who actually emerge as a winner but then the person nominated by the party to run would not be the person whom we have seen as won through the democratic primaries. This is something that has to change.
He continued " the attitude of leaders of parties have to be democrats.
They have to be democratic, they need to be have civility in the way they manage and run the parties. If they act like military garrisons commanders in their own parties, then obviously there would be serious problems in terms of maturing if democracy and helping to strengthen and depend democracy in our country. So these are some of the issues.
Speaking on the dearth of issue based campaigns in the country the chief electoral commissioner said "We also look at the issue of issue based campaigns.
Really as we move towards 2015, that is what we want to see. In this age and time it is o longer relevant for candidates to go ahead and abusing one another and to be making wild allegations and insults. They should be telling Nigerian sweat they will do concretely to address their needs and aspirations. The way politicians is conducted all over the world, you saw what you want and if the people trust what you say is achieved me and that you have the capacity to do then they will vote you.
And they will hold on to you if you don't deliver as you have promised.
"These are very important issues. We have seen over the years campaigns in this country where they are devoid if issues. They focus more specifically on insults and quarrels, allegations and counter allegations. We want us to move forward and leave all theses negative ten dices behind as we move towards 2015. These are issue of concern to us and we must continue to work together to be able to ensure that our politics are issue based and characterized by internal party democracy and ensure that violence is a thing of the past.
On the exploitation of  youths by politicians, Jega noted "youths are misused if not abused. Candidates and even parties provide drugs, provide arms, they will negatively direct the energies of youths in the political process. This should be allowed to happen. Immediately you as youth leaders have a responsibility to ensure that youths and women are not used in negative ways.
"Politics is not a do or die affair. Electoral contest should not be seen as a war contest. And the bottom line is If politicians buy arms and drugs and give tithe youths it will not augur well for our electoral process. But INEC will not hesitate to arrest and prosecute offenders if they are caught" he said.
Stressing the commitment of INEC to monitor campaign expenses, Jega said "nobody wants to see violence in the electoral process. So we have a responsibility to do everything possible to keep on taking adequate measures to minimize the violence in the polity. We also have to do everything possible to minimize the use of money in the electoral process. In INEC we are doing our best as we move towards 2015, so that we can effectively monitor the expenditure by candidates of parties as we move towards 2015.
"It is clear that there are certain limits imposed in the legal framework as to how much candidates can spend during electoral campaigns. Regrettable we have not be able to monitor this in the past and we are doing our best so that as we approach 2015, we should be able to monitor campaign expenditures of candidates."
He also lamented that people engage in multiple voters register with impunity.
Reiterated called for electoral offenses commission.