Professor Monty Jones, Former Executive Director Of FARA, Is Keynote Speaker At This Year's AgriBusiness Forum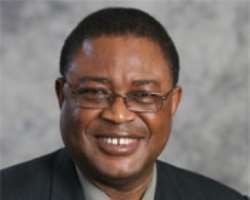 Professor Monty Jones, Former Executive Director Of FARA
Prof. Monty Jones, the former Executive Director of the Forum for Agricultural Research in Africa (FARA), member of EMRC's Executive Committee and one of Africa's leading agricultural experts, to be a keynote speaker at the Agribusiness Forum 2013, held this year in Kigali, Rwanda from 6-9 October 2013.
Prof. Monty Jones will spotlight the issues facing Africa's agricultural sector with a focus on pragmatic ways to achieve growth: 'Our experts should encourage the youths to go back to farming and agriculture by making agriculture an attractive enterprise through provision of inputs such as seeds, fertilizers etc. and adequate simple equipment to reduce the drudgery in agriculture and incentives to improve profitability through innovative funding and tax breaks,' he explains. He also highlights the need to breakdown the walls separating the various entities involved in agriculture and to drive the development of integrated and holistic programs that would involve research, extension, education and the private sector.
This year's forum is entitled 'The Agri-Food sector; A Catalyst for Sustainable and Inclusive Growth in Africa' co-hosted with Rwanda's Ministry of Agriculture & Animal Resources, and in collaboration with the UN's Food and Agriculture Organisation (FAO) and Rabobank Foundation, in addition to the World Bank Group's International Finance Corporation as the forum's Knowledge Partners as well as other leading international organisations and companies.
'The EMRC AgriBusiness Forum is good for Africa as it brings together experts in various fields including research, extension, education and the private sector to discuss how to promote agriculture and rural development in Africa. Discussions usually centre on promoting food security and job and wealth creation across the continent,' highlights Prof. Monty Jones in the run up to the forum.
The AgriBusiness Forum will showcase the key issues currently underpinning the Agri-Food sector and discuss expected objectives and business projections, in addition to an entire afternoon dedicated to B2B meetings (tailor-made one-on-one business meetings).
Over 400 people from across the world, representing international agricultural experts, Government officials, multinationals, farmer and private sector associations, donor organisations, civil society, investors and financiers representing Africa, Europe, Asia and the Americas will participate to discuss on-going projects, best practices and strategic policies with the aim of establishing investment and business partnerships for the Agri-Food sector, a pivotal sector for the entire continent's growth.
EMRC and FARA have collaborated throughout the years and as Prof. Monty Jones notes, 'Through engagement with EMRC and participation in the Forum, FARA has developed a region-wide initiative known as UniBRAIN which brings together research, universities and the private sector to promote Africa's capacity for innovations using the incubation model.'
In addition, a key AgriBusiness Forum feature - the EMRC-Rabobank Project Incubator Award - will once again offer a cash prize of US$15,000 to an African project that is pushing the boundaries in innovation and sustainability in agriculture and rural development. All forum participants can submit their business project for the award, which has attracted international media attention.