I am Never Under Pressure To Resign-Bamanga Tukur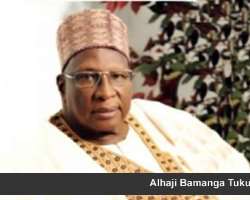 The Peoples Democratic Party (PDP) National Chairman, Alhaji Bamanga Tukur has dismissed media reports about plans to remove him from office. The Chairman said he was never under any pressure to resign as often reported in the media.
Tukur in a statement he personally signed said he was in good accord with President Goodluck Jonathan and other elders of the party with whom he said he has been strategising on the need to address the challenges facing the party.
He said he was aware of the antics by 'some black legs in and out of the PDP' who have been funding negative media reports on activities of the party both at the state and national levels, stating that such antics would amount to naught because no sponsor of such reports would go far.
Tukur said he had a firm belief that the Nigerian media have come of age in observing the tenants of Journalism, anchored on fairness, thorough investigation and balancing of reports before publication, as well as reporting the truth, all with intents to promote national interest and cohesion.
He expressed dismay that the media, since he resumed office as the PDP chairman, had made several failed prediction that he would not last long in office, based on projections by those he described as enemies of the Party. He wondered why a section of media would persist in reporting falsehood which, according to him, has been exposing their inadequacies or rather lack of depth and professionalism.
He said, 'I had hardly settled down in office  when some newspapers predicted that I would not last three months. Later, some newspapers wrote that I would resign in December. Another one said two days ago that I had been asked to resign. Well, I have spent more than one year in office and they still continue to write same and same thing all over. I really do not understand whether Bamanga Tukur is really the media problem, or the problem of faceless individuals who were manufacturing the miserable reports.
'It was more ludicrous that some people funded a report that I had resigned when indeed, I was on my way to Canada for an official engagement, and yet our so called media bought the untruth without shuddering. Then I ask myself, where is the sense of fairness and professionalism by our media in this regard?
'The problem is so bad that when members of our party meet and discuss behind closed doors, the media would say Bamanga Tukur is the issue. The media do not seem to know that we have better things to discuss in our party than issue of crises.
'Let me reiterate that I am not resigning and I have no intention of doing so as an elected National Chairman of PDP. I accepted to become chairman based on my conviction that I can use my wealth of experience to help my party and my country. I am not looking for anything at my age other than putting it on record that God has helped me, and then, I am using the opportunities he gave me to serve the rest of Nigeria to the best of my abilities.
'I will not relent in using the Good office given to me by God to bring peace into the party. It is on this note that I appeal to all our members to come together to face the challenges confronting us as a party. If we must remain the strongest party that we are in Africa, it is high time we buried the hatchets and then begin to close ranks.
'It is in our party's interest and indeed, in the interest of President Goodluck Jonathan to have us get back on the track while regaining the grooves that have been making us tick, unbeatable and widely accepted. To do otherwise is to yield the grounds to the propagandists who have been masquerading as our opponents even with the nebulous interest of getting power in 2015'.
Tukur, however, said as a Nigerian who had served in high capacities at the global level, who had assisted in bringing business opportunities to Nigeria as the President of the NEPAD Group and who is currently heading Africa's largest political party, he would never make a fuss by subjecting the process of his resignation from PDP to media hype and needless conjectures.