How Tinubu Scuttled NGF Peace Deal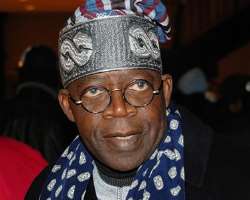 A recent move by some governors to resolve the leadership crisis rocking the Nigeria Governors' Forum (NGF) was scuttled by an All Progressives' Congress (APC) chieftain and former governor of Lagos, Senator Bola Tinubu, Pointblanknews.com has learnt.
NGF has been polarized since May 24 when Governor Chibuike Amaechi defeated his Plateau State counterpart, Jonah Jang, to emerge chairman of the forum. Jang and 15 other governors rejected the result and have continued to run a parallel forum.
Shortly after the deadlock, Lagos State governor, Babatunde Fashola had approached an Abuja high court, seeking an order restraining Jang from parading himself as NGF chairman.
Curiously, three weeks after instituting the suit, Fashola, a Senior Advocate of Nigeria (SAN), made a volte face, and applied to the same court to allow him withdraw the matter.
Fashola merely told the court that the withdrawal was "to enable him strategise and put his house in order."
Sources close to the Lagos governor told Pointblanknews.com that Fashola had been under intense pressure from Governor Gabriel Suswam of Benue State.
A lawyer, Suswam, according to the sources, approached Fashola with the proposal to make Amaechi and Jang give up claims to the NGF chairmanship, to pave way for a "neutral" candidate.
"I can authoritatively tell you that it was based on Suswam's proposal that his Excellency (Governor Fashola) withdrew his suit against Jang," an associate of the Lagos governor offered.
"However, after His Excellency later tabled the matter before Asiwaju (Tinubu), he was told point blank that the proposal may not be in the best interest of the opposition. That President Jonathan would still ensure that his candidate emerges," he added.
Tinubu had reportedly expressed disappointment that Fashola could have bought into such a crucial proposal without "consulting widely."
Pointblanknews.com gathered that it was Tinubu's fears that sparked the rejection of the proposal by an "initially willing Amaechi."
An APC top source explained; "Any wonder Amaechi, who had initially swallowed the Suswam bait, is now shouting 'No!' from the rooftops that he wouldn't step down for any candidate?"
He added, "You'll, however. notice that since the dramatic withdrawal of the matter in court, Fashola has taken the back bench as far as the NGF controversy is concerned.
It may be recalled that shortly after Fashola applied to withdraw the matter, Jang, through his lawyer. Mr. Tayo Oyetibo (SAN), told the court that it was too late in the day for the governor to move such a motion.
Jang's lawyer told the court to ignore the application on the ground that Fashola not given any cogent and verifiable reason for his dramatic u-turn.
Oyetibo urged the trial judge, Justice Peter Affen, to dismiss the suit in its entirety to save the precious time of the court.
The matter was adjourned to September 9.