Young inventor of power-generating football named entrepreneurship ambassador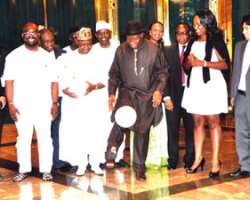 President Goodluck Jonathan was palpably elated by the creativity of a 25-year-old Nigerian lady, Jessica Matthews, who invented a power-generating football called SOCCKET ball.
Matthews, a co-founder and Chief Executive Officer of Unchartedplay, made a presentation of the ball to the President at the Presidential Villa, Abuja on Friday.
The ball can generate three hours of light from 30 minutes of play.
Aside, the ball the young prodigy also presented an energy-generating skipping rope to the President.
Jonathan who was swept of his feet by the Matthews' ingenuity described her feat as a proof of the quality of human resource present in Nigeria.
Consequently, the Federal Government appointed her as an Entrepreneurship Ambassador.
This was disclosed by the Minister of Trade and Investment, Dr Olusegun Aganga, after the presentation and demonstration of the invented products to President Goodluck Jonathan at the Presidential Villa.
Surprisingly, Matthews trained as a psychologist and economist but developed herself in the field of science.
The President said the invention was useful as a major tool that could be used to mobilise young Nigerians and encourage them to think more deeply.
Matthews said, 'Sometimes power is lost and you say what can you do to solve this situation and I saw my cousins and everyone playing football, playing with everything not even with football alone.
'I say this is amazing and they can rival Messi. If we can take this kinetic that is generated here and use it to address the issues that we really have; kinetic energy is used for windmill, why not the ball?'
She said although the items were already on sale in New York, she had not started making them in Nigeria.
She, however, said when they would be made available for sale in Nigeria, the cost would be equivalent to what people pay for a solar inverter.
Minister of Trade and Investment, Olusegun Aganga, said the Federal Government was looking at the possibilities of manufacturing the items in Nigeria and see how to make them cheaper for Nigerians.
He said, 'Jessica is a Nigerian, she studied at Harvard University, she went to Business School and actually taught herself Electrical and Mechanical Engineering. So, she is an inspiration to every Nigerian especially our children in Nigerian universities. This is a product not only for Nigeria, but a product made in Nigeria by a Nigerian and for the world.
'The second thing is that the product is actually versatile, it is not just about the electricity you see, you can use it to charge your mobile phones, for fans, so there are so many things for which it can be used.'