National Congress Of Nigeria Students (NACONS) On ASUU Strike
The Strike And Its Effect On Nigerian Students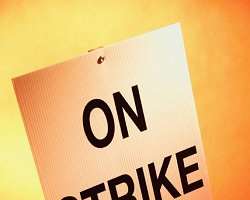 We are Nigerian students and we are affected by these series of strike actions by ASUU, ASUP, NASU and the likes. It is a known position of some comrades, pro ASUU assertion, irrespective of the cause and the effect of the ASUU strikes on the Nigerian students, they are of believe that a union must stand for a union.
I believe they have rights to their opinion and we must access their perspective from objective view. Must a union support the action of another union in all instances? If yes, is that an objective position?

To avoid ideological selfishness, we opt for the option of cross fertilization of ideas, and perspectives over the issue of ASUU strike in Nigeria. If we really stand for the good of the country and the defense of Nigerian students, we must create an avenue like the ROUND TABLE INTERACTIVE SESSION ON EFFECT OF ASUU STRIKE ON NIGERIAN STUDENTS held on 13th August, 2013 in the conference hall of National Congress of Nigerian Students (NACONS) in Ilorin, Kwara state.

ASUU is a Nigerian union of university academic staff, founded in 1978 with the history of militant action. The union was a pressure group against the military regime in Nigeria. It has severally gone extra mile to protect the interest of its members since its creation, in 1988, the union embarked on National strike to obtain fair wages and university autonomy. The union was faced with a strong attack by the government on 7th August, 1988 when the union was proscribed and all its properties seized. It was allowed to resume in 1990 but banned again in 1992 after the union mount another pressure with its usual strike. The union showed its action again when its members were dismissed by "Sani Abacha military regime".

The advent Democracy does not dim the light of ASUU as the union proceeds in its usual protection of the interest of its members through strike actions. In 2007, ASUU went on strike for three months. In May 2008, it held two weeks warning strikes' to press a range of demands including an approved salary scheme and reinstatement of 49 lecturers who were dismissed and another strike was witnessed in 2009 which was called off after a memorandum of understanding was signed with the government. The 2009 memorandum of understanding has continued to breed new strike actions when the federal government of Nigeria could not fulfilled her agreement reached with ASUU.
The Federal Government could reach agreement but could not fulfill her promise that shows she is not herself as government. We cannot hide away from the fact that we have failing personalities in the failing government, it takes failing persons to hold a failing government, such is our predicament in Nigeria.
Our government has not only fail in the fulfillment of her agreement with ASUU but has long time failed to fulfill her social contract with the citizens of Nigeria. The youth have no job, millions of Nigerian graduates are unemployed, and many important roads in Nigeria are death traps, thousands of Nigerian die on daily basis on these bad roads.
The same leaders run away from Nigerian hospitals for India, Canada, and United State of America, having known in their mind the present state of Nigeria hospitals. The hospitals in Nigeria in the hand of our leaders are ones where equipments and drugs are not sufficiently available. We will continue to count in every facet of Nigeria structure species of decadent that call for intervention.

If every union and organization is like ASUU, here in a country with bad leadership, we will all go on strike indefinitely until the government is paralyzed. If the Nigeria Medical Association, NASU, ASUP, NURTW, NANS, and other unions could imbibe the ideology of ASUU, could one emerging what a country with bad leadership will turn to. In the twinkle of an eye, these groups will aid the bad leaders to run down the country.

As Nigerian students, we have our own perspective and interest just like ASUU who never for once ignores the interest of its members. Every time there is ASUU strike in Nigeria, neither ASUU nor government will lose but the Nigerian students are always at the losing end. The ASUU after they achieve some or all their demands call off their strike and come back to campus with their salary intact, meanwhile, what we lose as students we cannot regain.
Our years in school are elongated, our academic flow experience obstruction, also, many students involve in road accidents when they are left with the option of unwarranted travelling due to ASUU strike. Who is losing and who is gaining? Who is fighting for whom? The Nigerian students are at the receiving end and see no justification to be supportive of what is poisonous to us; we thus cannot be part of incessant strike in this country.

We need good leadership rather than strike action. Since we have all the opportunity to determine who becomes leader of this country every four years, why do we not form a formidable force that will engineer the long dream good leadership for Nigeria? By so doing, the promise of government to ASUU will be fulfilled and the social contract will be furnished by the government.

I am of the opinion that ASUU embarked on strike not for the sake of Nigerian students but for the interest of its members while the students are always at the receiving end. If ASUU never ignore its interest for once, is it not our duty to guide our rights and interest as the grass that surfer under the warring elephants.

NACONS'S RESOLUTION OVER ASUU STRIKE
NACONS believes Nigerian students are the grass under two warring giant elephants and are at the receiving end of every ASUU strike that takes place in Nigeria.

We strongly urge the federal government of Nigeria to respect her agreement signed with ASUU in 2009 as only this is expected of a responsible government.

Also, we urge ASUU to shift grand when necessary in the ongoing negotiation with the federal government of Nigeria in other to protect the future of Nigerian students who are at the receiving end of every ASUU strike.
We resolve that all ASUU agitations and demands are not for the interest of Nigerian students but rather for the interest of its members, irrespective of some contents that seem favourable to Nigerian students and the development of education in Nigeria.

We call the federal government and ASUU to adopt the option of bit by bit fulfillment of their agreement with sincerity and honesty.

ABDULSALAM ABDULFATAH LIBERTY
NATIONAL PRESIDENT, NATIONAL CONGRESS OF NIGERIA STUDENTS (NACONS)